The Chicago Cubs beat the Cincinnati Reds 9-5 Tuesday night. The real significance of it though was it signified Cubs Manager Joe Maddon's 1,000 career win. Maddon has been the Bill Bellichik of coaches in baseball for the last decade, only he doesn't have the personality of paint drying on a wall. Maddon is one of those energetic players coaches and true great minds of the game. I mean he brought the fucking Tamp Bay Rays to the World Series! Sheesh! He decided to celebrate his number 1,000 in style with a glass of red wine.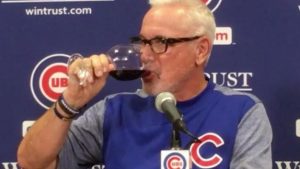 Fuck yeah, Joe swig that glass, you earned it brotha. You don't even have to ask me if this is a boss or soft move, this is a boss move all the way. FYI for any of you, pansies who think wine is "for girls" or is gay, shut the fuck up. Wine is classy, refined and distinguished. Bitches love wine. If you're having a girl over or taking her out to eat you better not get her a fucking bud light guy. No disrespect to Bud, your ass just won't be getting laid with that type of juvenile move.
Look I don't even know if you're even allowed to have alcohol in press conferences, probably not I would think. But Joe Maddon just doesn't give a fuck. I'm enjoying a glass of my "Big Splash" he calls it whether you like it or not. Boss move. Joe has always been an avid wine lover, some would even say a virtuoso of wine. He was given it before their trip back to Wrigley and is enjoying a nice glass relishing in his 1,000th career victory. Joe Maddon, you are the man, don't ever change.