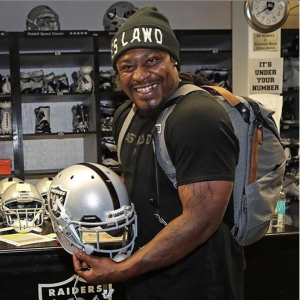 The poster boy for Skittles is back in action! Yup, Marshawn Lynch and this time not for the hawks, but the black and silver Las Vegas Raiders. Sounds weird saying that, but we gotta get used to it. I cannot wait to see Beast mode back in action. Over and over and over and over and over and over and over and over again. Then just hit a mother fucker in the face. That will be so rich. The first person he knocks flat on his face I'll be going crazy. But seriously I think this is a great fit for both.
The Oakland Raider fans, yes the original ones are mad. They're pissed the fuck off. I don't envision most of them quitting on their team though. Sure some will but the majority are passionate gritty fans who are pure savages. What is Marshawn Lynch? He's a fucking savage who runs with an animosity and chip on his shoulder. He has a big personality and so does their fans, the Raider faithful will absolutely love him.
God, I love me some Marshawn Lynch. Lynch is an incredible human being. It's a shame that fucking loser Roger Goodell attempted to demonize him as a dirtbag because he's anything but that. We've all heard the stories of him just being a stand-up person who looks out for his loved ones and just loves life. They all came out after he retired, but guess what fuckers he's back!
Many people are asking the question does he still have it? As his last year in Seattle wasn't the greatest. To those people, I laugh. Lynch is going to run shit this year. The Oakland Raiders have one of the best lines in football. Quite frankly Latavious Murray is incredibly average, at just 4.0ypc behind that line, not impressive in the least. Actually pretty bad. Lynch ran behind a very weak Seattle offensive line in his last season. And he's fresh off a year of no hits, just straight weights and skittles I'm sure. He'll be like the energizer bunny, believe me.
What does this mean for the Raiders as a team? They'll have a tough in between the tackles runner to complement their two good explosive young backs in Jalen Richard and DeAndre Washington. Their pass attack will be elite again with the return of David Carr to go with Michael Crabtree, Amari Cooper, and newly acquired Jared Cook. Cook finally gives Carr a big weapon over the middle of the field. This offense should easily be top 5, if not top 3.
The real question for the Raiders will be defense. If they can continue to draft young talent and sign some good veterans this also could be a strong defense. Khalil Mack is a monster but he needs help on the other side and in the secondary. If they do this and stay healthy they could be the team to give the Pats a run for their money. I'm sure beast mode is ready to hit a mother fucker in the face on the Pats and revenge that lack of opportunity from the 1-yard line. Still can't get over it, the fucking one.