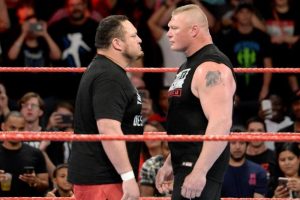 With RAW going head to head against the NBA Finals and Smackdown one show away from Money in the Bank, WWE had to bring it, right?  If only logic mattered anymore…
Monday Night RAW kicked off with the most exciting segment of the week.  Brock Lesnar's music hit, the crowd erupted, there he was carrying his Universal Championship not seen on TV in months, waiting to call out Samoa Joe.  What an exciting moment only ruined by the fact that Heyman and Lesnar are all smiles after the prior week Samoa Joe choked out Lesnar's advocate to send a message to "The Beast."
Heyman spoke in his usual angry cadence, Joe interrupted.  Here, we see Joe and Brock in the ring together for the first time and naturally a brawl ensued.  After Kurt Angle called for security to break these two up, the RAW locker room was called upon to intervene once security failed.  While Lesnar was still being held back by his fellow superstars, Joe was able to kick Lesnar in the head knocking "The Beast" to the ground.  This was an awesome segment and this thought won't be unique to anyone else watching but, HOW WAS THAT THE LAST WE SEE OF LESNAR AND JOE?!
This was something great that could have gone on all night, but minus a quick Joe backstage promo, that was it!  Everything else in the show seemed flat, as if creative put all their energy into one segment and didn't want to overexpose Brock since he is seen so often on television (first time since WrestleMania week), and then decided to just fill the show with anything else the rest of the night.  This led to the new lowest rating of 2017.
Other RAW interesting moments included The Miz having a tag team match with a dancing bear as his partner which would later (after the ol' switcharoo) that the bear was Dean Ambrose who hit his finisher, Dirty Deeds on The Miz to allow Heath Slater and Rhyno to pick up the win.
The women are being booked terribly right now.  Bayley had another cringe-worthy segment in an interview with Corey Graves where she ended it awkwardly asking for a hug. In the ring, there was another awkward Alexa Bliss segment with Nia Jax.  The mic work needs work all around for these newer people.  Nia Jax interrupted Alexa Bliss and WWE does this thing where they cut her music while she is coming down the ramp.  This leads to Jax saying one quick line then in dead silence walking to the ring and continuing that line what feels like an eternity later.
On Smackdown, the same thing happened with The Fashion Police where their music was cut early and Fandango said a line, then silence while they walk to the ring and Tyler Breeze finished the line after they entered the ring.  I don't get if they are told not to talk until they're in the ring or something but it creates such an awkward segment.  There's no way to recover from it either. Mic work needs to be a free flowing conversation and if the conversation stops while someone is walking to the ring, the flow can't be regained.  Anyway, rant over.
On the Smackdown side of women's wrestling, I'm getting excited for the women's Money in the Bank match AND Lana's title shot against Naomi.  Both are matches never seen before and add some intrigue to the PPV.  Lana has a cool finisher and I wouldn't be opposed to her upsetting Naomi and either having an instant cash in by the MITB winner or seeing how Lana does with her first championship.
The Hardy Boyz received their championship rematch in a 2 out of 3 falls match which ended in a tie.  These matches are so long and to leave it in a non-finish just feels like a waste of time.  We've seen The Hardy's take on Sheamus/Cesaro every single week since WrestleMania so this feud needs to end.  I don't understand why creative can't incorporate these two teams within other teams to freshen their time on RAW up but hopefully this will all blow over at Great Balls of Fire (ugh that name). Regardless, this as a main event felt weak and didn't advance the story line at all.
Smackdown's main event featured all the men's Money in the Bank participants and after Sami Zayn picked up the victory for his team (AJ Styles, Shinsuke Nakamura), this pretty much guaranteed he will have no chance this Sunday.  My pick for the MITB winner is Nakamura.  He's a special talent and this will give him that big win to keep him in the main event scene.  There is a strong chance Corbin wins if WWE sees him as the next top heel, but I'm hoping for Nakamura to make Smackdown a bit more exciting. Smackdown ended with Nakamura climbing the ladder to grab the MITB briefcase.  To me, this means he won't win either, but a guy can dream, right?
Some quick notes on John Cena and Roman Reigns.  Cena is being advertised for a July 4th return which should help with ratings during the holiday.  He's being called a free agent so its possible creative will use this as an opportunity to bring some star power back on both shows.  Speaking of lacking star power, Reigns was noticeably absent and the only mention of him outside of a video package is that he has a Summerslam announcement next week.  I suppose they are leaving him off the next PPV which is a mistake.  Even though Reigns is booed out of the building, he's still one of the most must-see characters on the entire roster.  Half the roster comes out to four people cheering, Reigns has an entire arena reacting.  For Summerslam, will Reigns call out John Cena, Lesnar or Braun Strowman?  Columnist Justin Labar at Upgruv says, it could be the return of Goldberg.  If he's right, that would be a monster announcement and give SummerSlam the attraction it so desperately needs.