The biggest party of the Summer is only days away as WWE begins its four-day stint in the Barclay Center for NXT, SummerSlam, RAW & Smackdown.  With Smackdown ending in a shocking (RIP Corbin) fashion, with the Lone Wolf, Barron Corbin, losing his MITB Briefcase cash in against Jinder Mahal, has WWE done its job to hype the big PPV?
I've seen many writers call this card "the most stacked card in history," however, is it actually?  I would argue the card is only stacked in quantity, more than quality.  Since there are 13 matches on the card including pre-show, I'll touch on my predictions for what I feel are the most relevant matches on the card (sorry Cruiserweights).  So in honor of the 20th anniversary of the formation of D-Generation X, let's break it down!
Hardy Boyz, Jason Jordan vs. The Miz & Miztourage (Kickoff Show)
How the mighty have fallen.  I normally wouldn't even bother with a pre-show but this is a travesty.  The Hardys were the most over tag team in the world before they even returned to the WWE back at WrestleMania.  Ever since their epic return and loss of their titles, they've been irrelevant and similar to when the Dudley Boyz returned a few years ago.
The Miz, on the other hand, continues to put together interesting promos each week and while he holds the IC Championship, he never gets to defend it.  SO while the U.S. Title feels extremely important, The IC Champ is stuck on the pre-show in a 6-man tag.
Prediction: Hardys and Jason Jordan win.  It's the Hardys return to NYC for the first time since joining the WWE roster and I think they want to kick it off with a Hardys win.
SmackDown Tag Team Championship – The New Day (c) vs. The Usos (Kickoff Show)
Seriously?  This is on the preshow too?  The NEw Day just got the titles back and while they deserve to be on the main card, I suppose Orton and Rusev need this spot more….
Prediction: New Day just took these belts back, I think they keep them a bit longer here.  It wouldn't shock me if they just flipped the belts back, but I'm hoping we aren't just playing hot potato with every championship now.
Big Show vs. Big Cass w/Enzo Amore in a Shark Cage
Ah, the ol' throw someone in a shark cage above the ring match.  This match has minimal interest I feel.  We keep hearing Enzo is being punished and has backstage heat and you get the feeling he's just going to be on the losing side to Cass and go away.  Since I'm hoping this match isn't as obvious as it seems…
Prediction: Enzo throws a foreign object down and either on purpose or by accident helps Cass.  This loses his trust with Big SHow and eventually reunites a heel "Realest Guys in the Room" tag team.
Randy Orton vs. Rusev
Prediction: I don't have much to say here.  This match has no heat.  Rusev is the winner because he needs to gain some steam already before losing on a bigger stage. NEXT!
SmackDown Women's Championship — Naomi (c) vs. Natalya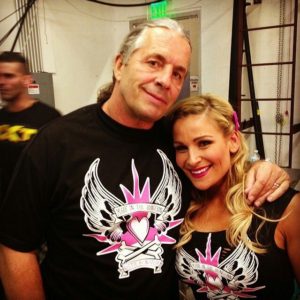 I'm pretty excited for this one.  Naomi has done an AMAZING job putting herself over with her glow entrance and the new belt. Natalya has proven that she can be a great heel and seriously hasn't won a championship in quite some time (ever?).
Prediction: Natalya defeats Naomi in honor of her Uncle Bret Hart defeating the Undertaker at SummerSlam 20 years ago.  While Naomi's had an incredible run, it's time to go with your Hart and give the belt to Natayla.
John Cena vs. Baron Corbin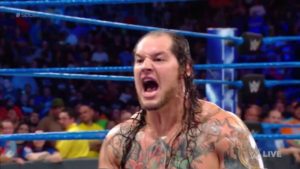 I'll be the first to say it.  I'm an adult male and I am a John Cena fan.  But let's face it, you are too.  He's done more for wrestling than basically anyone before him given that he never left the industry and works as an ambassador for the company even when filming his own projects.
Corbin on the otherhand, is boring, has weird hair for the look he's trying to go for and his new music is horrendous.  He's also coming off a cash in of his Money in the Bank briefcase and LOST.  This is normally a sign of a future firing, but in this case, I'm not so sure.
Prediction: Corbin needs to win this.  I thought Cena up until Smackdown.  Corbin can use this to rebuild and Cena will either go to RAW or take time off again.  The NYC crowd will probably go crazy for a Cena loss and Cena seems to have no issue putting younger talent over.  Corbin wins.
Finn Balor vs. Bray Wyatt
Did they seriously need to announce that the demon king character is returning for Balor after he hinted that, "everyone has their demons?"  Classic WWE shoving everything down our throats in case anyone missed it.  Anyone think Bray has a chance after defeating the "Fonzy" version of Finn Balor on RAW?
Prediction: No.  No one does.  Balor and his demonic persona defeat Wyatt.  This seems all but guaranteed.  THe bigger question is, after winning the championship at SummerSlam last year (and never receiving a rematch), will this push Balor back to the main event picture?
Raw Women's Championship – Alexa Bliss (c) vs. Sasha Banks
I actually am really unsure here.  This division feels stale now with Bayley sidelined and Bliss sitting on an iron lifeguard chair as her big moment last week.  Banks defeated and made Nia Jax tap out to her Banks Statement, which was a poor move for Jax's character but does elevate Banks.
Prediction: The big question is, how long is Bayley out for?  If for a while, Banks wins.  If only a few more weeks, I feel WWE wants to still do Bayley and Bliss.  I'm going with Banks to try and inject some fresh air into this division.
Raw Tag Team Championship — Sheamus & Cesaro (c) vs. Dean Ambrose & Seth Rollins
The will they/won't they of the WWE, Rollins and Ambrose trying to play up the nostalgia of the Shield, even though without Roman Reigns, there is no Shield.  Imagine if Roman came down to help Rollins/Ambrose win the championships?  Talk about a way to FINALLY get Reigns cheered in NYC.  This obviously won't happen and if they reunite it'll be down the road.
Prediction: Rollins/Ambrose WIN the championships.  Everyone is assuming one will turn either at SummerSlam or down the road, but I think WWE should keep these two together until they are ready again to go back to the main event.  Let them win the championships and maybe keep them through the Shield Reunion.
United States Championship — AJ Styles (c) vs. Kevin Owens w/Special Guest Referee Shane McMahon
They've been doing a ton of teasing Shane's involvement in this match.  Whether he gets involved or not, I think we'll see Shane and Owens in a match at a future PPV all stemming from this night.
Prediction: AJ Styles retains his championship.  Styles and Owens have been passing this championship back and forth like a hot potato (second reference!) and it's about time that stopped.  Shane counts Owens down for the 1-2-3 and Owens blames Shane somehow.
WWE Championship — Jinder Mahal (c) vs. Shinsuke Nakamura
I'm exhausted writing all of these predictions.  I can't imagine how I'll feel by the time we only have two matches left the night of SummerSlam.  This is too many matches and I hope they throw in some quick backstage segments to break up match after match.
Nakamura continues to be on fire.  Jinder continues to be Jinder.  Has his time come to an end on top?
Prediction: Not much analysis here, but Nakamura wins.  Jinder had his run but it's time to just push Nakamura to the moon and give him the same treatment Balor received last year.  Not excited for the "you deserve it" chants, but I am excited to celebrate in the Barclay Center when Nakamura wins.
Universal Championship – Brock Lesnar (c) vs. Roman Reigns vs. Braun Strowman vs. Samoa Joe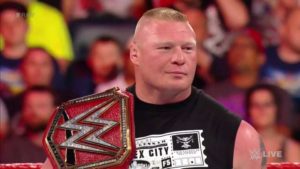 Finally, we reach the end of the night.  A fatal four way that if Lesnar loses, his manager Paul Heyman says he leaves town for good.  I assumed Braun Strowman would win this one, maybe Samoa Joe, however, this stipulation gives me some concern.  Yes, they can ignore the stipulation and Lesnar can come back at Royal Rumble, but I'm just not sure if this is how the story will go.
Prediction: Winner and STILL champion, Brrrrrock Lesnar!  This stage seems to be set for Lesnar to lose.  He doesn't even need to be pinned to lose, but I don't see WWE writing him out for good due to a loss.  I see Lesnar retaining through WrestleMania or Royal Rumble before he gives up his coveted prize.
I need a nap after this one.  A lot to sift through.  How do your predictions match up with mine?  Feel free to post if you want to go one on one, WITH THE GREAT ONE.