Here we are once again, the Christmas Day for betting props, Super Bowl Sunday. We took a run through and carved out some great Super Bowl Prop bets for this Sunday. Some for value purposes and others with some great chances to make everyone some money. We tackled outlandish prop bets to player and team props. We also gave our official picks on the game spread and the over/under.
All Lines provided by Mybookie.ag
Bet these games on My Bookie now and DOUBLE your money with a 100% deposit match!
Pink National Anthem Over/Under 2 Minutes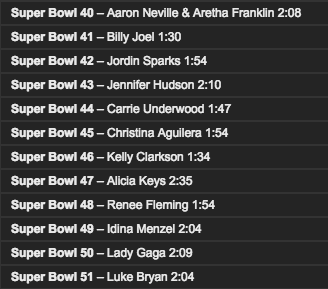 As you can see the last three years have gone over this total. Luke Bran was the first male to go over 2 minutes in Super Bowl history. With all the fanfare and presentation growing exponentially year over year around this game you can see the Anthem's getting longer. Artists no longer get paid for the Super Bowl performance, in fact, the artists have to pay the NFL. This game provides so much exposure for an artist that every second on the screen is valuable, especially that they now have to lay down their own cash. Although Pink is somewhat of an upbeat artist, I expect her to milk this clock and safely hit the over here.
Pick: Over (-140)
Gatorade shower color 
The teams top players usually select the Gatorade color. The Patriots have had blue Gatorade their last two Super Bowls. Last time I check the Patriots haven't had too many changes at the top part of their roster in that time frame. There isn't too much data on the Eagles Gatorade color choices, but half the battle here is picking the winner and then the color. at +330 Blue is great value for pretty much knowing the Patriots preferred color choice. Sure Lemon Lime is there at +180 but I don't think there's enough value especially when the favored team has a history of a different color.
Pick: Blue +330
Will Brady win Reg Season and SB MVP
Really like this one here for multiple reasons; numero uno- Brady is no guarantee to win NFL MVP. Brady didn't impress over the last few games of the year including a stretch of 5 TO over 3 games and a lackluster performance against the Jets. Todd Gurley, on the other hand, went off at the end of the year before McVay rested his starters week 17. Secondly, it's no lock the Pats win! If they don't win Brady has 0% chance of winning MVP. Also, if they do win it could go to someone like Gronk or a defender making a game-winning play.
Pick: No -120
Belichick's Hoodie Color
This is another bet where we take history into account. Belichick has worn blue the last two super bowls. The Patriots have also worn white jerseys the last two Super Bowls. They are again wearing white, I expect Belichick to follow the expected pairing.
Pick: Blue +150
Super Bowl MVP
Just a great value play here. If the Pats don't win who will get the MVP? I would think the guy with the best shot to get to him and that's Fletcher Cox. Cox is a monster at putting pressure on the quarterback as is the Eagle's D line which evokes fear into offensive lines. Throw some money on Cox hoping for an Eagles win and you may be pleasantly surprised.
Pick: Fletcher Cox +2500
To Score a Touchdown in the game
We went with one value pick and one of the more expected picks. This isn't a one or the other bet, both could hit or both could lose. We looked for goal-line opportunities here as obviously those are the easiest places to get the ball into the end zone. Blount is that for the Eagles. Unless Ajayi breaks off a 20 plus yard run into the end zone, Blount will be getting the handoff in the red zone. I expect the Eagles to have some success moving the ball so Blount at +180 was still solid value for someone that should have a couple scoring opportunities from short yardage situations.
For the Patriots we thought about Rex Burkhead, but at +145 the value just wasn't there with so many running backs in the Patriots backfield. Plus they don't even really define a red zone back. They've handed it off to all three in red zone situations, as well as one more player. That player is Tom Brady. The Patriots love to run the QB sneak with Brady inside the 2-yard line. They've already done it once during these playoffs and multiple times during the regular season. with such high odds of +750, there's great value on the Pats pulling a fast one trying to play unexpected in the super bowl right up against the goal line.
Pick: Blount +180
Pick: Brady Rushing TD +750
Player to score the first touchdown
Ah, this would be great revenge wouldn't. Blount scoring a TD against his old team who cut him after his 19td performance last year. The Pats are notoriously slow starters in the first quarter of super bowls never having scored a point in the first. Ajayi is no doubt the Eagles top back, however, he's their 20 to 20 guy while Blount is the clear goal-line back. After rumbling and stumbling into the end zone last week over a tremendous Vikings D Blount is a good bet to score, just a matter when but at +1200 this is a great value play.
Pick: Blount +1200
Brady Total Passing Yards 
Like a few of the bets, sometimes coupling together two bets which are both great value plays still provides value while providing stability. So far, this postseason Brady threw for 337 yards against the Titans and 290 against the elite corners of Jacksonville. Something about these numbers I just like. 320-360 is something he is certainly capable of and he has fallen in this category in two previous Super Bowls. He won't throw for 466 yards like last year against Atlanta or even 400 in my humble opinion. Double up on these two and you should see yourself with a solid chance in the fourth quarter.
Pick: 321-340 +550
Pick: 341-360 +650
Alson Jeffery Receiving Yards
Alshon has had a pretty good playoff and a huge game against the Vikings. 71-140 yards is a pretty huge and common range for number one wide receivers. With odds ranging from +650-+5800 in ten-yard intervals, you can guarantee a profit if you bet an equal amount on all of these. Alshon will get his looks no doubt and while Malcolm Butler is a great cover corner, he simply doesn't have the size to completely shut down Jeffery. Expect him to get at least 8-10 targets and with his big-play ability, I love Jeffery's being able to get to 70 yards with that much cushion for a guaranteed profit at that point.
Pick: 71-140 yards (+650-+5800)
Eagles Halftime lead, Patriots win game
Tell me this is not classic Patriots- losing at halftime and coming back to win the game. The Pats are slow starters it wouldn't shock me at all to see Philadelphia have a 10-7 or 13-10 at the end of the first half. If they are winning who is better at second half comebacks than Brady? The answer is no one. If the Eagles are up a few at half this will look like a near lock and a great value play at +450 it almost doesn't make sense.
Pick: Eagles win first half/Patriots win full game
Margin of Victory
Similar to the Alson bet, if you play all of these and any of them hit, you are guaranteed a profit. Super Bowls are usually very close. With this game expecting to not be the highest scoring by many (including us) 6 points on either side is a solid amount. The Patriots have never won a Super Bowl by more than 6. If the Eagles do pull out the victory it's very unlikely that it's a blowout. The Patriots almost never get blown out, especially in huge games. Whichever side this game goes to, expect it to be a one-possession game and great value taking all of these.
Pick: Patriots 1-3 +500
Patriots 4-6 +700
Eagles 1-3 +750
Eagles +4-6 +1100
Alshon Jeffery Longest reception vs Hogan
Speaking of spreads that don't make sense this one is really a no-brainer. Alshon Jeffrey's longest catch just has to be ONE yard longer than Chris Hogan's. The same Hogan who had two catches for 20 yards verse the Jaguars and the same Hogan who had one catch for four yards against Tennessee. Amendola looks to be the go-to target in New England and I believe Gronk isn't bad (yeah no shit he's playing), and they have Brandin Cooks. Compared to Alshon Jeffrey who has quietly had a great year for the Eagles as a dominant #1 and scored a wide open 53-yard touchdown last week against the Vikings. Put the house on Jeffrey -1, fuck it put your child's college savings on this one.
Pick: Jeffery -1 (-115)
Amendola O/U 4.5 Receptions
Amendola has been lighting up these playoffs. They even created a hype song for him. He's had 7 and 11 catches the last two games. & against a Jaguars secondary that is miles better than this Eagles iteration. The Eagles main strength on defense is their pass rush. They will be bringing the blitz early and often as getting to Brady is the only tried and true formula for beating the Patriots. This will cause Brady to have to get rid of the ball quickly. Amendola plays most of his time out of the slot, so expect a ton of slants and out routes especially to start the game as the Patriots attempt to soften up the line of scrimmage early.
Pick: Over 4.5 (-110)
Eagles Total 1st quarter O/U 2.5
The value isn't great here, this is still an easy win for the Eagles. All Philadelphia has to do is score over 3 in the first quarter. So yes, that means one field goal will suffice here. Figure they should get 3 possessions in the first quarter they'll get at least a field goal on one of them. The Pats are notoriously a bend but don't break defense and nothing has changed this year while just 29th in yards allowed at 366 a game they give up just 18.5 points a game which is good for fifth best.
Pick: Over 2.5 (-195)
Over/Under 49
This Eagles defensive front 7 (most of the time 8) is no joke. They rush the passer as good as any team in the league. This is one factor they I think limits the Patriots offense. Not to say they'll be completely ineffective but I think they'll struggle to score with all that pressure on Brady in the first half. They will make adjustments at the half but who knows if they'll have enough time to rack up enough points in the second half to make up for the lack of them in the first half. The Patriots, on the other hand, give up a lot of yards, but not a lot of points. In fact, theyre 5th in the league in points allowed this year. Thier total defensive rank is a misconception when it has to do with betting the over. The Patriots have only gone over in one of their last 5 Super Bowl and that game took overtime to be able to do it. I expect this game to come in with a fairly low scoring first half while the teams try and feel each other out, but don't think there will be enough scoring on both sides in the second half to make up the difference. Defense win championships, it will be the focus of this game for both sides. Expect them both to come to play.
Pick: Under 49
Full Game Against the Spread (Eagles +4.5)
This is probably one of the tougher bets and it's the most talked about one. Do we really think the Pats will torch the Eagles D? Probably not, the Patriots have never played in a Super Bowl that wasn't one possession, 7 for 7. Make it 8 for 8. The Eagles obviously have a chance to win if they win the line of scrimmage on both sides of the ball and are covered by 3 and 4 points respectively. Foles will play solid, Pederson is one of the best minds in the game, and the Eagles are playing with a big chip on their shoulder ever since they lost Wentz. They have fully adopted the "dog" mentality and are truly embodying the cities nasty mentality.
Pick: Eagles +4.5
Best of luck this weekend, follow along every week to keep us honest and if you wanna make some money listening to us, hit the link below and start stealing money from your bookie every week.
Bet these games on My Bookie now and DOUBLE your money with a 100% deposit match!