Not everything is perfect for Dak Prescott.
Even though the rookie has solidified his spot as the starting quarterback of the Cowboys as he continues to shatter each and every expectation, his humble attitude has been called to question.
According to his now ex-girlfriend, Prescott's humble attitude is all an act. Via 12UP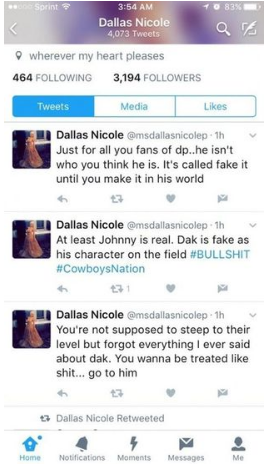 CLASSIC. Just CLASSIC athlete Ex GF move here. I mean from start to finish could this disgruntled playboy model braud be more predictable and stereotypical? The story goes the same every time, college FB star with smokeshow GF who thinks (with complete delusion) that she's gonna be able to stick around for the long haul. Guy gets rich and famous and deads her. Now to this point in their lives, this has never been a thing for these women, mainly because they're always insanely hot and the whole world's knees buckle to insanely hot girls. Then you toss in the little "Playboy Model" sidenote and you're mixing up a dangerous formula for a naive college aged dude just trying to bang the hottest thing possible.
Back to the point, these girls usually have had everything handed to them and it doesn't bode to well when they get denied or cheated on the first time. Yea, in a normal world this girl might have an argument, but being an Athlete wife isn't a normal world. Lebron married his High School Sweetheart! you honestly think Lebron James, the most famous athlete on the planet hasn't had sex with any other women since he was 18… get outta my face with that shit!
When you get on this ship you agree that with the access to millions of dollars and lavish lifestyle, there might just be a little cheating worked in by your man. Just the way she goes, don't like it, don't sign up.
As for what this girl is actually saying, Dak isn't what he seems blah blah blah…. NO. SHIT. No one is exactly what they seem in front of the media,that's not how our society or athletes are trained to be. you're always gonna put on a happy facade for the cameras, real breaking news this girl is reporting here. Be more stereotypical, seriously, do it.
P.S. Her deleting her twitter after all this (only following a failed "I was hacked" attempt) really puts a damper on her whole movement. Then again, I think the world is good without hearing from "Dallas Nicole" for a while, what a fucking stripper name that is….