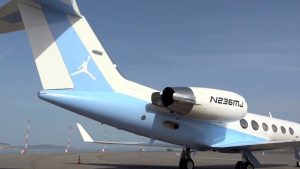 New paint job on Michael Jordan's private jet features the familiar Jordan shoe "Elephant Print" (Credit: Instagram/CorporateJets) pic.twitter.com/vZIVu0Owjk

— Darren Rovell (@darrenrovell) March 7, 2017
Everybody knows/remembers (depending on your age) "I wanna be like Mike." It was everywhere, a universal phrase, understood by nearly anyone. It was great because all the kids truly did wanna be "Like Mike." Michael Jordan was the first major marketed superstar in the NBA. His commercials were everywhere. "I wanna be like Mike", with that jingle, it just resonated. Oh yeah, not to mention a 6-time champion and undisputed greatest basketball player of all time. On top of the world. Being Mike back then was pretty damn awesome.
That being said, being Michael Jordan today is 100000x better. The guy owns an entire team now, instead of just playing for one. His clothing brand reportedly brings him in an additional $100 Million more a year. Then add in endorsements. The guys rolling in it. "It" being the one 1%ers. You know, the type of crowd that not only owns an aircraft with a 9 figure price tag, but has the money to keep upgrading it.
Jordan's plane went from his alma mater Carolina blue to the elephant print which has famously made appearances on a number of iconic sneakers. Most notably the Jordan 3's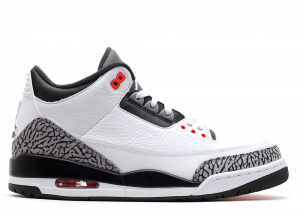 The new paint job pays homage to one of sneaker heads most customized and sought after pairs of Jordans. It's a creative change to show respect for something that's helped make you what you are today. The GOAT in more ways than one.
P.S. Shoutout for obviuously keeping the most baller tail number ever N236MJ. Amazing.