Your New York Giants 2017 Mock Draft
With the Giants spending literally hundreds of millions of dollars over the last two free agency periods on a shiny new defense and some skill position players, it's time to set their focus on the offensive and defensive lines. Though they do still have a need on offense with a dynamic Tight End an RB for someone to compliment Paul Perkins if they elect against signing LeGarrette Blount and now that AP looks to be signing with New Orleans.
Though this team has the majority of its 11-5 team returning from last season, there are still some holes they need to fill and some places where they really need to add some depth. I'll go through this mock draft naming who I think they should take and maybe 1-2 other options if those guys aren't available. Lets first go over the teams bigger holes and where they could add some depth.
Big Holes (In no specific order): RB, OT, OLB, DT, TE, K
Areas that could use depth: QB, CB, DE, OG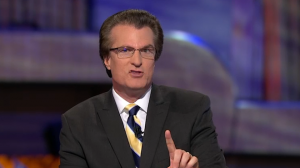 Round 1, Pick 23
The Giants could go in a number of different directions with this pick based on who's off the board. Jerry Reese usually airs on the side of taking the best player available regardless of team need. So if someone was to drop that really wasn't expected, the Giants could bump conventional wisdom in this spot to grab the talent value in the later part of the round.
They could go O-line here with Ryan Ramczyk out of Wisconsin, who was unarguably one of the three best tackles in college football last year, arguably the best. With Erik Flowers not exactly panning out on the left side, this could be a good fit to step in and allow Flowers to move to a less demanding position on the line. Garrett Bowles is the other lineman they could take if Ramcyzk is off the board, which is a real possibility. I think Ramczyk is more talented but the Giants are rumored to really like Bowles, so even if Ramcyzk falls and they're given the choice they still could probably take Bowles.
If they decide to go linebacker I think they go Zach Cunningham or Jarrad Davis. Davis is beloved by the Giants but he seems to be falling out of their range as his stock has risen in the past few weeks. Cunningham is the next logical choice as a do it all linebacker who could be their starting MLB for the next decade.
The only way I can see the Giants going with a Running Back in the first round is if Dalvin Cook falls to them. It's seeming like more and more of a possibility as we get closer to draft day, but even if Cook is there, I'm not sure Reese sees it as much of a dire need as the O-line or a linebacker. Cook being there only makes RB a possibility, not a probability.
The last spot the Giants could turn is to Tight End. OJ Howard will most certainly be off the board by now. He's projected as high as 6 to the Jets in some mocks. The Giants guy would be David Njoku. The next in the long line of athletic freak tight ends to come out of Miami. He's a great pass catcher who isn't afraid to block either. His 6-foot 6-inch frame makes him an instant easy red zone target for Eli Manning, something he's been missing since Plaxico didn't realize his Sean John sweatpants elastic waist wasn't strong enough to keep his gun in place.
In the end, I think the Giants elect to go with either O-line or Tight End. Thew two positions that will most directly help Eli Manning. Eli is getting up in age and they need to do whatever they can to keep him protected healthy and happy. With Ramczyk most likely going to be off the board, I think they choose to help protect Eli with Garrett Bowles. He's a great blocker the Giants have high on their board. If he's there, they'll take him. If not Njoku will be their pick and it will be a damn good one that I'm sure Eli will find out very soon he likes a lot.
Pick: Garrett Bowles OT, Utah
Round 2, Pick 55:
Now that the Giants have bolstered their O-line in the first round and there's no real value at TE here, I think they turn to linebacker in round 2 with Houstons Tyus Bowser. Bowser's stock has been rising in the past couple weeks. He's an athletic freak who tracks down whoever has the ball in their hands. The Giants have been missing a dynamic athletic outside linebacker since their more recent Super Bowl teams. It's been a legitimate weakness for a while now, its time they sure up the box on the outside with this pick. Bowser fits well in their system as either a 4-3 pass rusher or 3-4 free roaming linebacker. Bowser will be able to supplement JPP in the pass rush. With the loss of Jonathan Hankins up the middle, Bowser will also strengthen the second line of defense for the run. Bowser will join last years 5th round selection BJ Goodson as 2/3 of the Giants new young starting linebacking core next year.
Pick: Tyus Bowser, OLB, Houston
Round 3, Pick 87
Round three is where the Giants finally grab their TE in Adam Shaheen. This guy is being called the next Rob Gronkowski. With double-digit touchdowns the last two years and standing almost 6 foot 7, I think I can get around that comparison. Shaheen is a versatile tight end with great pass catching abilities and size to push around anyone in the NFL. Not being afraid to block he will serve as another added level of protection for Eli Manning. Shaheen could be a huge steal in the 3rd round if he turns out to be even half of Gronk. Him playing at Ashland has allowed him to fly under the radar a bit. With Donell being the Giants current best option at TE, this is a perfect time and fit for the Giants to make the move and nail down their guy.
Pick: Adam Shaheen, TE, Ashland
By the later rounds, everything is a guess. You probably have a better chance at filling out a perfect bracket than you do picking the right player for a team at this point. So for rounds 4-7 I'm gonna throw out a few possibilities of guys that should be available, my favorites and most sensible, based on remaining needs, from the what feels like thousands of mock drafts I've read through.
Round 4, Pick 140
This is where I think the Giants finally make their play at a Running Back. Judging by the past decade or so 3rd and 4th round running backs seem to be where the most value is. You never know with Joe Mixon's record how far he could fall. Despite the Giants problems concerning domestic violence with Josh Brown last year it would be hard to imagine them taking Mixon, but then again if for some reason (highly unlikely) he is available, it would be hard to imagine the Giants passing on that value. Especially given Reese's history of "best player available" draft strategy.
That being said, Mixon is one of the top 4-5 running backs in this draft. Despite his troubles, if he made it close to here, it would be a shock. One player, they could look at though is the man who shares the backfield with Mixon. Samaje Perine, a north-south runner who was the counterpart to Mixon's elusiveness. Together they created one of the best running games in college football.
Another guy is Clemson's, Wayne Gallman. Gallman like Perine is a north-south runner but has the elusiveness in the open field to break away on huge runs. He's also a dominant red zone target (13 and 16 touchdowns last two years) and a yardage eater (averaging over 5 YPC last two years). Last but not least, he's a pass catcher as well (21 and 17 receptions last two years), a trait coveted in Running Backs within the Giants west coast offense.
Marlon Mack out of the University of South Florida is the third RB I think the Giants could go with. He was a top recruit out of High School and played that way in college. He may not have run at a big name school but definitely good enough to justify the numbers he put up. He led the AAC in rushing his freshmen and sophomore year. He most recently placed 5th on just 174 carries. still gaining almost 1200 yards. He also had 63 catches and almost 700 yards receiving in his collegiate career.
This will be based on availability, but if the Giants need a running back and all three are available then I think they take Marlon Mack.
Pick: Marlon Mack, RB, USF
Round 5, Pick 167
With Eli Manning aging I could see the Giants going after a QB in the later rounds to develop under manning for a couple of years. Nathan Peterman the QB out of Pittsburgh could be an option here. I think they end up going with DeShone Kizer from Notre Dame. Kizer has the drive and athletic ability that seems to be required for an NFL QB these days. Yes, he still needs some work before he can be a legit starter in the NFL but I like the odds of pairing that athletic ability with the teachers being Eli Manning and Ben McAdoo.
Pick: DeShone Kizer, QB, Notre Dame
Round 6, Pick 207
Well, the Giants don't have a kicker on their roster right now. Sure they could sign one, but let's get a nice fresh leg in there. I've been seeing a lot of Arizona State's kicker Zane Gonzalez. I don't hate it, let's go with it.
Pick: Zane Gonzalez, K, Arizona State
Round 7, Pick 241
I think the Giants will probably try and get more depth on the offensive or defensive line here to close out the draft. This basically throws a dart blindly at the draft board and draft him.
If they go O-line I'll say OG Damien Mama, USC
If they go D-line I'll say DT Rashaad Coward, Old Dominion.
That wraps up the Giants 2017 mock draft. Be sure to comment below and let us know how smart, or stupid you think we sound.