Yesterday was the first round of the NFL draft, the event was filled with a lot of dramatic and stunning moments. The Browns wound up taking the QB they believe will be their QB of the future in Baker Mayfield. The Giants take the hometown kid in Saquon Barkley. Below I have compiled what I believe to be the best 5 picks of the first night of the NFL draft.
Denver Broncos- Bradley Chubb- DE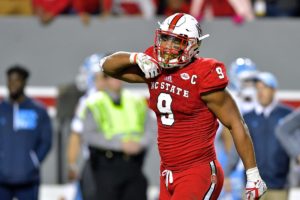 The Broncos got a STEAL at number 5, I predicted this pick in the BF mock draft, but once the Browns kept their 4th pick I assumed they would take him. Denver was linked to a lot of trade talks before the Draft, but once they saw they could get a player that has been described as a cross between their own star Von Miller and Khalil Mack they had no option but to take him. Bradley is an absolute force coming off the edge, and I immediately got anxiety by envisioning Chubb and Miller lining up on the same line. The Broncos still have some holes that they need to shore up on the defense, but this is a huge step in getting this team back to the super bowl.
Atlanta Falcons – Calvin Ridley- WR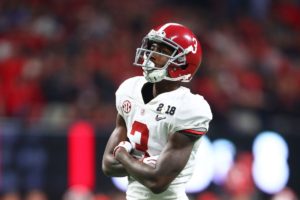 In a first round that featured 2 wideouts being taken, the Falcons got their man in Ridley. Ridley will be lining up opposite fellow Alabama Alumni Julio Jones, in what should form a very formidable offensive attack. Ridley is a receiver who brings a mix of speed and great route running. He can blow past corners and has the footwork to create spaces underneath.  Calvin is a major upgrade from departing receiver Taylor Gabriel whom the Falcons lost this offseason. Not to mention, Mohammad Sanu is no slouch either as your third best receiver.
Dallas Cowboys- Leighton Vander Esch- LB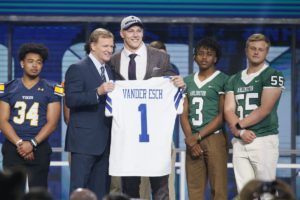 This pick upsets me because I was hoping that the New England Patriots would have been able to draft him at 23. The Cowboys got a great cover Linebacker coming out of Boise State a player that has drawn comparisons to Brian Urlacher. A lot of people say the Cowboys needed to take a wideout with this pick, but Dallas no longer has a pass-first offense, and with the signing of Hurns this offseason it allows them to grab a receiver in the later rounds.This is an excellent pick for the Cowboys that will help shore up the middle of their defense that has been attacked in recent years.
Carolina Panthers- DJ Moore- WR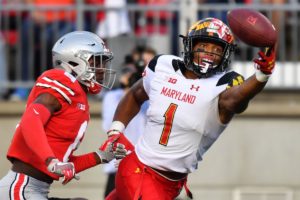 The Panthers added a new weapon for Cam Newton by taking DJ Moore with their first-round pick. DJ is a player who excels underneath and will help open up passes downfield for the other Carolina receivers. Moore has excellent short area quickness that should allow him to get open frequently, but he needs to improve on his route running if he wants to take his talents to the next level. I still love this pick because it complements the Carolina Panthers offense very well.
Miami Dolphins- Minka Fitzpatrick- DB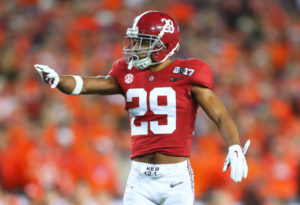 The pick is great because Minkah is the kind of player that the Dolphins can drop down when facing a team like the Patriots in order to help neutralize a Rob Gronkowski. Minkah is a Malcolm Jenkins type player, he can drop back into coverage, and he can come up and play in the box. The Dolphins receive a player that can make an impact from day one and should help them compete in a pass-happy division.