They don't call him Stylebender for nothing, and this past Saturday at UFC 253, Israel Adesanya showed why he is the world's best at 185 pounds.
Going up against a formidable opponent in the then-undefeated Paulo Costa, a lot of people thought Adesanya's title reign was coming to an end, but he had other plans.
Right off the bat, he started putting in some serious work on the lead leg of Costa and it showed.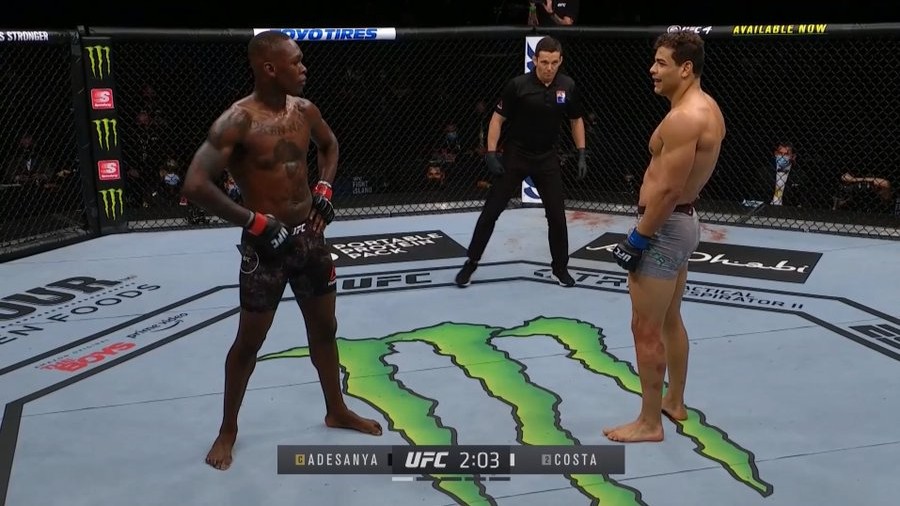 I mean look at that leg and this was just three minutes into the fight.
From start to finish this fight was a pure clinic from the Last Stylebender. He picked Costa apart from the outside and the challenger had no answer whatsoever only landing 12 total strikes.
All this after Costa talked a lot of shit. This guy was saying he was going to end Adesanya, just walk in there and destroy him. He even went as far as showing up to the weigh-ins wearing his BJJ Black Belt and attempted to give Adesanya a White Belt.

As you can see, Adesanya didn't take too kindly to that throwing it right back in Costa's face. Followed up by those classic antics throwing a light-hearted kick right out of a kung fu movie.
Even though the champ scored a second-round TKO win, the best moments came after the fight when Izzy made sure to let Costa and his team know who the real king of the middleweights is.
After dry humping Costa on his way back to his feet and breakdancing while Paulo tried to remember what continent he was on, Adesanya made sure to stop by Costa's corner and had some words for his coaches who had been helping fuel the pre-fight trash talk.
This is just a whole other level of disrespect, albeit well-deserved, but my god these men have families Izzy. Some people didn't like his post-fight antics, but I LOVE IT. It's all part of the game, you talk shit before a fight and say you're going to ruin someone and then proceed to get decimated like this. You get what you deserve.
Now that the dust has settled, it's pretty crazy to think about how fast Adesanya rose to the top of the division and it seems like he is going to be there for a very long time.
His resume is as impressive as anyone. After 253 he now holds wins over Brad Tavares, Derek Brunson, Kelvin Gastelum, Anderson Silva, Robert Whittaker, Yoel Romero, and now Paulo Costa. With a 20-0 MMA record (9-0 in the UFC), he is well on the way to being one of the greatest and it's safe to say we are all enjoying the ride.