Happy WrestleMania week everyone!
I'm not going mince words here, the build for the biggest show of the year has been lackluster, to say the least, but should we have expected anything different? Ever since WrestleMania 33 concluded, the booking has been extremely lazy all year with a brand split losing steam quickly and too many pointless PPVs which diluted the product immensely. There have been some poor builds for matches that should be a lot more exciting but let's break down what you should be looking forward to and even some winners of some key matches.
The End of a Streak?
I'm going to kick this off with a bold prediction and a match to be amped for: Charlotte defending her title against Asuka. Since coming to the WWE, Asuka never lost a match and has an undefeated streak longer than any wrestler ever, including Goldberg. Even with this impressive booking, WrestleMania is where Asuka falls. Charlotte is one of the best all-around talents on the roster and is the only believable star outside of Ronda Rousey to defeat her. WrestleMania is all about those "OMG" moments and to me, the bigger moment is the streak ending than Asuka winning her first main roster championship. The Queen wins.
Prediction: Charlotte "Woo!" Flair
Return of "YestleMania?"
Daniel Bryan is back and what is equally shocking is that his tag team partner, Shane McMahon, appears to be ready to wrestle this Sunday in New Orleans. Shane recently was diagnosed with diverticulitis (the same disease Brock Lesnar had in the UFC) and had hernia surgery, and yet, he is somehow wrestling. I don't know what to make of this match, but the return of Daniel Bryan is certainly exciting. This man left at the height of his popularity and every fan must be hoping this is one stop on becoming more of a regular wrestler going forward. This match should be entertaining, especially with the amazing mic and ring work by Kevin Owens and Sami Zayn, so with the stipulation that the team of Owens/Zayn are fired if they lose, who wins?
No doubt about this one, Daniel Bryan and Shane will win this match and have the "YES" chants raining down in Nola. Expect KO/Zayn to reappear on RAW shortly after Mania.
Prediction: Daniel Bryan & Shane McMahon
BRAUUUUUUUUN's Partner is….
Braun Strowman had one hell of a year making big impacts with his feuds with Roman Reigns and Brock Lesnar, however, there was much speculation for the "Monster Among Men" at wrestling's biggest show of the year. That question was answered when Strowman entered a No. 1 Contender TAG TEAM battle royal BY HIMSELF and WON. Now, Strowman's storyline is playing mind games with his opponents, The Bar, as to who his tag team partner will be.
For those rooting for a Bray Wyatt, Rey Mysterio or any other big name to team with the Monster, I ask you this, why? A big name return wouldn't make sense for Strowman because he already won the battle royal alone. Why would he need a credible tag team partner now?
I would much prefer Strowman taking a jobber such as Curt Hawkins or an indie wrestler planted in the crowd to be his partner with the direction of just standing there while Bruan competes alone the entire match, I think it can be a competitive match, but giving Strowman the strap on the biggest stage would be a nice icing on the cake of a great year for Braun. Maybe someone like James Ellsworth or Gillberg returns. Even with my fantasy booking aside, I think being a tag team champ will tie Strowman down if he is destined for bigger things, so I'm going with Sheamus and Cesaro to retain their gold.
Prediction: The Bar
IC Championship – The Miz (c) vs. Finn Balor vs. Seth Rollins
This has been one of the better builds of the year and my pick to be the match of the night. The crowd is super into all three competitors and this would be a great opener for the show. I'm actually not sure who wins this one. I think The Miz breaking the record for the longest champion is certainly possible, but I'm just going to pick with my heart here and say Seth Rollins.
Rollins doesn't have much going on with Reigns tied up and Ambrose to with an injury. This could give one of the best workers in the company some purpose going into the new WWE year. No matter who wins this one, each competitor is deserving and able to carry this strap, but I'd like to see it defended more regularly and be a workhorse title similar to the days of when Bret Hart held it in the '90s.
Prediction: Seth Rollins
WWE Universal Championship – Brock Lesnar (c) vs. Roman Reigns
This has to be the biggest lock of the night with Reigns taking home the gold. Lesnar is already been announced by Dana White that he'll be returning to the UFC this year, so it's almost a foregone conclusion that Lesnar is leaving. This doesn't mean that WWE doesn't try and swerve us with Lesnar retaining and then losing it the next night on RAW, however, I'm playing it safe and saying that "The Guy" Roman Reigns wins another WrestleMania main event and is your new champion.
I'm just excited to see the championship on RAW every week instead of once every few months,
Prediction: Roman Reigns
Ronda Rousey match could be hard to watch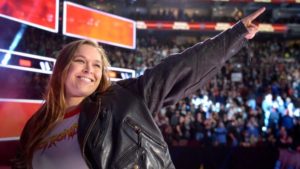 I've been excited and waiting for Rousey to come to the WWE ever since she appeared years ago with The Rock and took down Triple H.
Now that I got what I wanted, I'm not so sure I'm enjoying the product. I'm not actively rooting against her, but this build has been horrible due to Rousey's mic work and limited ring work. Everything she says is super cringe-worthy. She comes out smiling and slapping hands and acts like a fan, rather than a mean and bad ass in-ring character.
On top of everything, this is Kurt Angle's return to WrestleMania too and we've gotten no feeling of the Angle of old screaming that he will break HHH's ankle, doing his one-liners and oozing with confidence like the Angle of old. He just feels like a blubbering idiot.
HHH and Stephanie will do the job here 300% and then we won't see them again until next Mania, but this match isn't about a great match. It's about mainstream appeal. Everything Rousey does will be covered by mainstream news outlets so in that regard, this match will accomplish WWE's goal.
Prediction: Ronda Rousey & Kurt Angle
WWE Championship – AJ Styles (c) vs. Shinsuke Nakamura
This could be the match all the marks are most salivating over and it should be a fun one. Both Styles and Nakamura are among the most exciting wrestlers within the company. This match should be a long one with a ton of false finishes keeping the crowd on the edge of their seats all night. I think we see ANOTHER title change here with Nakamura taking home the gold in a feel-good moment crowning a historic year of winning the Royal Rumble and the championship in his first year on the main roster.
Prediction: Shinsuke Nakamura
Before addressing the Cena situation, here are some quick picks for you:
Alexa Bliss retains over Nia Jax
New Day become your NEW Smackdown Live Tag Champs
Andre the Giant Battle Royal Winner- I'm going with #Woken Matt Hardy but could be some surprise return
Women's battle Royal – Bayley
Cruiserweight Champion-  Could not care less
The Rock will NOT appear
John Cena vs. The Undertaker- Does it happen?
This has been THE WEIRDEST build for a WrestleMania match ever. For four weeks, Cena called out The Undertaker to fight him at Mania, however, the Phenom never answered. Most, including myself, believe this match is still happening. I think this will close the show and that we won't see the dead-man version of the Undertaker, but we get the American Bad Ass.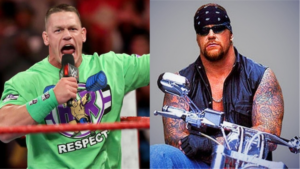 Reasons for this?
Well, Cena keeps calling out specifically the Taker gimmicks such as lightning, the lights going out, etc. and begging him to "do something." Cena also is calling out things that the "man" Mark Calloway, who plays Undertaker, is doing on a regular basis such as calling out that his wife posted Calloway's workout videos on Instagram. Last point, Kid Rock, who sang the biker Taker theme song, is being inducted into the Hall of Fame.
I don't love this and the world seems to believe that this is the Taker version we get. I am a fan that because he seemed to "Retire" last year, it is a way to honor that and give the fans The Undertaker in a more real way for one night only. The only issue is, it seems weird for this immortal and iconic character to have his last match as the biker version, instead of his most famous version.
Either way, expect all night to cut to the crowd to see John Cena goofing off and sitting in the crowd until he ends up running in the ring to try and summon The Undertaker one more time. I think this time we hear a motorcycle and The American Badass emerges. In the end, I still expect Taker to LOSE to Cena and hopefully ride off into the sunset.
Let's face it, Taker hasn't looked good these last few years and while he still gets a great crowd reaction, I think it is time, especially after losing another WrestleMania, to ride off one last time.
Prediction: Match happens and John Cena wins to close the show
That's all we have for our preview. Disagree with my predictions? Don't be afraid to lay some smackdown on the comment section with your thoughts.
If you aren't excited for WrestleMania, get excited for the #RAWAfterMania as that is when we could see some big returns and new storyline setups!