WrestleMania was longer than a day of work, however, WWE at least delivered with some unpredictable outcomes whether they made smart booking sense or not. One of the bigger announcements for the Monday after Mania was the return of a Superstar Shakeup next week on RAW and Smackdown. Superstars will be switching brands next week, which made this #RAWAfterMania, which is normally filled with chaos, feel more like a stall for next week, rather than major storylines for the new year.
With both WrestleMania and RAW in the books, let's look at some of the biggest surprises from the weekend.
Cena Squashed?
After weeks of John Cena calling out the Undertaker and fans/writers speculating (including myself) that Taker retired the "Dead Man" character and would return as a more realistic version of the man as the Biker character he once portrayed.
Much of the night, Cena was seen in the crowd taking selfies, drinking a beer and hanging with fans. At one point, a referee whispered something in Cena's ear and he took off to the races and ran backstage without explanation. A few matches later, Cena came out dressed to compete in neon green ready for his match against The Undertaker.
The lights finally go out and the crowd roars, only to reveal that it's Elias and not Taker. After Elias talked his smack, Cena hit Elias with an AA to send the drifter packing. As Cena made his way out of the ring, the lights go out again, some extremely cheesy lightning hits the ring and Taker's gear lay in the center just as he left it last year. The lights go out again and the gear vanished and the regular Undertaker appeared. The match lasted four minutes. Cena hit maybe one move and Undertaker wins and exits.
What a major letdown that there wasn't a bit more here including a more competitive match. I'm sure Taker couldn't actually do a 20 min match, but I just felt wanting more here and shocked that so little time allotted to two of the biggest Superstars in the company's history. Equally disappointed that Cena didn't appear on RAW the night after to address his status.
Rousey Rose to the Occasion
I was a big naysayer of this Ronda Rousey match because everything she's done so far has been hard to watch. Her smiling persona as she walks down the ramp, her awful mic work and every move she's done to Stephanie has looked like she may accidentally break her neck. I'm happy to report that Rousey did a great job silencing any doubters with one of the most entertaining matches of the night!
Everyone in this match looked great, even Kurt Angle who had his first WrestleMania match in 100 years. Triple H and Stephanie looked great too of course, but their daily workouts helped make sure that they looked as good, if not better than they did in their prime. The match itself featured pedigrees, Angle Slam, and an Ankle Lock, but the moment everyone was waiting for happened when Rousey locked in that armbar on Stephanie McMahon causing her to submit and give Rousey and Angle the victory.
After an epic match, I was quite disappointed in the next night on RAW, the opening segment had Rousey back to her smiling self, even laughing at times as she can't contain her excitement. There was no mention or appearance by either Angle or Triple H and Rousey just locked in another arm bar to end the segment. I was hoping for something to lead to a new major angle, but that was the theme of RAW that night. No real new angles until the shakeup next week.
Braun Strowman and a kid are your new Tag Team Champs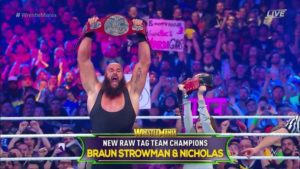 I'm so thrilled that Braun Strowman's partner was exactly the type of person that I wanted. In my last post on Bleacher Fan, I called for Strowman to select a jobber or someone out of the crowd to be his tag partner because Braun doesn't need a real wrestler to win these titles. He's above them.
Strowman's partner ended up being a random fan (actually a plant as he was a referee's son), Nicholas and they actually won the championships! Nicholas was over like Rover as he captured every fans dream to become a champion but not actually get hit. The next night on RAW, Braun, and Nicholas surrendered the championships as he is only in the fourth grade, however, the duo was a major jolt of comedy into the long WrestleMania card.
Championship Matches Underwhelm 
If you're a fan like me, then you expected AJ Styles and Nakamura to tear the house down and Lesnar and Reigns to underwhelm. In the end, both matches surprisingly underdelivered which let WrestleMania end on a dud, rather than something thrilling and exciting.
Nakamura and Styles delivered on the big fight feel with Nakamura coming out with an incredible entrance. The backup guitarist for Alice Cooper playing Nakamura's theme was one of the best moments of the night. Sadly, this is where the excitement kind of ended. The match itself felt kind of cookie cutter and the crowd didn't even seem so into it. Possibly six hours of wrestling fatigue was setting in, this match could have benefited from starting the show. The highlight of this one wasn't even the match itself, but the heel turn when Nakamura gave a low blow and attacked Styles indicating that this feud isn't over just yet.
As for Roman Reigns and Brock Lesnar, I seriously thought Reigns was going to win this match without a doubt in my mind. Lesnar is definitely going to the UFC. Dana White even confirmed it! Lesnar hasn't lost a match in over a year, it felt like it was time for Reigns to take over. The match was pretty gruesome too with Reigns busted wide open and face covered in blood. I think the blood went too far for Vince McMahon's liking as it appeared he and Lesnar had words backstage.
The part that bothered me the most was trying to showcase the resiliency of Roman Reigns here by needing to take about 6 F-5's, including one through the table, to be beaten. This is far too many and unrealistic even by my standards. I hate how often people kick out of finishers and on WrestleMania, it can happen, but maybe only once or twice. SIX times should not be what is needed to end a match. Next year's 'Mania will take 20 finishing moves to end a guy. What is even the point?
The next night on RAW, there was no Lesnar, but an announcement of Reigns taking on Lesnar again at the Saudi Arabia WWE Network event. I can see anything from Lesnar losing at that event and his contract renewal being only one month, to staying another year and doing UFC on the side. I am curious as to what it will take to actually beat the Beast and I'm thinking only Braun Strowman can do it.
Match(es) of the Night
I really think two matches stole the show at the biggest event of the year. The IC Championship match which saw Rollins take home the gold was a thrilling opening to the show. Rollins hit his signature move in surprising fashion to become your new Intercontinental Champion.
As for what could have been the best match of the night, Charlotte ended Asuka's undefeated streak (as predicted by yours truly) to retain her Women's Championship. This was a stunning upset as it felt like it was Asuka's time to be the champion, but there is no denying Charlotte Flair is the complete package and these two will continue to put on some of the best matches of the year.
Quick Notes:
Some major returns and debuts happened on the RAW After 'Mania. Most notably:
Bobby Lashley- Does he go right to the top as a challenger to Brock?
Jeff Hardy- Seems like he will stay the Team Xtreme version for now, but they hinted that Brother Nero waits in the wings
Samoa Joe- Only a matter of time and it seems we'll get him and Roman as the next big RAW feud
Ember Moon- She could be a bad ass replacement if Asuka stays on Smackdown
Authors of Pain – Let's not fuck these guys up like we did The Ascension, ok?
No Way Jose- No way.
Other major moments/comments from the weekend:
Bray Wyatt and Matt Hardy are a tag team! I'm excited to see where this goes. Having Hardy win the Andre The Giant Battle Royal was definitely the way to go. Let's see more of these guys!
Daniel Bryan returning was so awesome. I'm hoping he doesn't just return to his Smackdown GM role. Wrestler Daniel Bryan is much more exciting
Paige announced her retirement on RAW. Felt like this wasn't as emotional as some other retirement speeches since everyone knew this was coming. Very sad news and wish her nothing but the best.
Let's get a Rusev/Jinder feud going for that US Title. After all, it is Rusev Day.
Fewer matches, more quality matches next year would be preferred. You also have legends backstage like Austin, Goldberg, Edge and Christian- why not use them for a skit here and there to break up all this wrestling?
Can we get some actual rules as to how the Shakeup will happen? I'd like more than just random people showing up on different shows. Let's see some story here!
Those are my thoughts on the weekend, but don't be afraid to layeth The Smackdown in the comment section with your favorite moments!