The first day of NFL Free Agency and to begin the day we wake up with this fine update from Adam "Schefty" Schefter.
Brandon Marshall and NY Giants reach agreement on a two-year deal, per source. Marshall doesn't have to move, now plays with Eli and OBJ.

— Adam Schefter (@AdamSchefter) March 8, 2017
Let's go! Marshall to the Giants, it just seems so perfect from all angles. From and off the field perspective, all he has to do is walk across the hall now. He gets to the stadium and makes a right at the end of the hall instead of a left.
Marshall has made it no secret he loves being in New York. He's had a fairly calm tenure here, both on and off the field. He has a job with the NFL network as an analyst on the side. His work on TV thus far has been entertaining. He's well spoken and personable. The NFL Network is located in New York. Another opportunity he might have to sacrifice if he was to leave the area for another team. So we know he's coming, but what did the salary cap-strapped Giants pay? *Sits there and hopes Reese didn't overpay like Phil does*
Then we get this from Marshall on Instagram.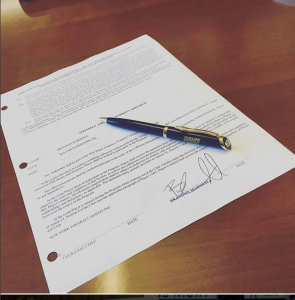 Not sure about you, but looks to me to be as official as it gets. Name on the dotted line. We find out it's a 2year/$12M deal. Yes, Marshall had a down year last year (59 catches/ 788 yds/ 3 TD) but when your best deep threat goes down and your quarterback is Ryan "Pickspatrick" having a down year is a near certainty. To give you an idea of how terrible Fitzpatrick was last season, in their game against the Chiefs, he threw more interceptions (6) than he had completions to his top two receivers, Decker and Marshall (5). Yea, go back and reread that, there were no typos.
Two seasons ago in 2015, Marshall was on of the league's top receivers with 109 rec/1,502 yds/14 TD. That's one hell of season he's only one year removed from. We live in a world where Pierre Garcon will make $16M from the Niners next year. So a motivated to win a super bowl Brandon Marshall for $6M per year? Sign on that dotted line Brandon.
Then a few hours later and Marshall is back on Instagram flaunting his new colors. Love the enthusiasm. Already in the Odell cutoff hoody. They're already two peas in a pod. So that sparks the on the field questions.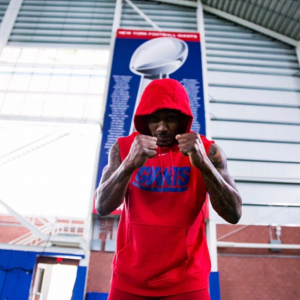 How will Marshall fit into the Giants offense? In one word, perfectly. Eli has lacked a true big receiver since Plaxico got a little too frisky with his pistol in the nightclub. Marshall solves that. Since Cruz got hurt, they haven't been able to put a consistent threat on the outside opposite of Beckham. Marshall solves that. The Giants need a tall end zone target with great hands, Marshall solves that.
The west coast offense the Giants run will only help Marshall by spreading the field. The multiple wide receiver sets and propensity of half backs catching balls out of the backfield will consistently leave Marshall in single coverage. Paired with the fact that a defense can't really justify double-teaming Marshall over Beckham. Let it not be forgotten that second-year wideout Sterling Sheppard is damn good too.
At the end of the day, we all want to see Brandon Marshall get into the playoffs, maybe have a shot at a title, this move provides that. The Giants have the best top to bottom receiving core in the NFL bar none now. Last year the Giants focused on upgrading their defense, it paid off big time, finishing the year as a top 5 defense. This year they have clearly put the focus on offense. Eli only has 2-3 years of good football left. They need to give him as many weapons as they can.
If I'm Brandon Marshall I call up Antonio Brown and see if he's down for a double or nothing bet for pink slips. He's off that fresh deal, motivation might be a little down, might be able to steal that forest green Porsche back, paint it blue. Drive it to your first playoff game with the fresh paint job. On the right side of the stadium.