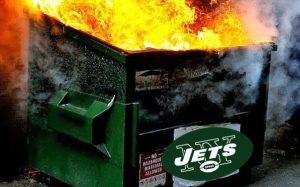 The New York Jets will be selecting number 6 overall in this year's NFL draft. I can confidently say this draft will define the Jets franchise for years to come. Let's all be realistic here the Jets will suck next year. That's a guarantee. This draft class will not make the Jets winners today or even tomorrow but God willing two to three years down the road.
Mikey Mac…. The trigger man for the NYJ franchise. Let's all be honest Mac was asked to turn the Jets back into winners quick after some dreadfully horrible seasons. He put a huge band-aid on the team and got lucky on some trades and signings for 2015 and it worked out. That all blew up in his face after doubling down with the same team in 2016. I place most of that blame at the feet of the honorable ambassador across the pond Woody. Mac has been know as a drafting savant in Houston, I'm sure he had no interest in trying to win right away. The clock to win accelerated to quickly on the franchise without a sustainable QB. Now he has been left with no other option than to pivot and rebuild, doubling the amount of time it would have take if he did it on day one.
Mac has had two drafts under his belt as the GM of the franchise with a mixed bag of results. Drafted a budding superstar in Leonard Williams in year one with Darron Lee and a few other young players who have shown some promise (This does not include Hack… I can't even begin to talk about that clown… I could write another article on him that could end up longer than the "I have a Dream speech"). Combine that with some real misses like Mauldin, Devin Smith, and Bryce Petty… He's in a place where he really needs to find some players that can come in and contribute next year.
He has shown a willingness to trade and make deals so I fully expect him to be wheeling and dealing this year, just don't expect it to be in round one. The Jets have done everything but send out and email to the press to let everyone in the NFL know that they want to trade back. While that would be an ideal situation for the Jets since they suck and have no players on this roster…. this draft is loaded and teams are not going to be willing to trade up to get a guy at 6 where they will be able to draft a similar player 5 picks later.  The valuable chip Mac has to play with is Sheldon Richardson, who will be a free agent after the season and isn't going to be resigned. Sheldon's checkered past includes some great seasons as well as some questionable off the field behavior. A player of his caliber when motivated and playing right should be getting a 1st rounder and another late round pick in return, but given his past, the Jets should count their blessings if they could get a 3 and a 7 for him. Expect Sheldon to be dealt at some point during day 2 of the draft.
The biggest conundrum in this draft for the Jets… Do the Jets believe in Hack enough to start him this year… or will this force a QB at #6 because they don't think they have a franchise guy. I don't think there is a QB really worth picking at number 6. As a result…THEY HAVE TO LET HACK PLAY THIS YEAR… and here's why. He has every possible measurable you want in a QB, you used a second round pick on him… so if he doesn't play that is a clear indication they missed and they have no faith in him. Either way, I'm in the camp that they have to see what the kids got. They aren't winning the Superbowl this year, you need to go down the road of seeing what Jeremy Bates is able to do with him. People forget Hack was the number one QB recruit out of HS. When he was with Bill Obrien at PSU he was widely considered as a future star in the making. Coach the kid up and see what happens. If he doesn't show you anything this year, you pray the stars align to draft Sam Darnold in 2018.
Now getting to the nitty gritty of the draft and what everyone wants to see…. The almighty Mock draft…This Mock isn't going to include any of these asinine trades that Barnwell or other NFL writers come up with out of thin air. I am going to mock the Jets based on what they have right now… so here we go.
Round 1, Pick 6:
I will get the crazy question out of the way… No, they aren't picking a QB… This isn't the draft to make that pick. NOT one of these guys screams franchise QB at you off the page. They all have their flaws so I want to believe they aren't going to pick one. If they do pick one, I hope its Watson but that's going to be a stretch.
In the end, I think they pick one of three players… Adams(PLEASE GOD), Hooker or Lattimore. Todd Bowles is an ex-defensive back and they have NOOOOONE that can defend a pass in the defensive backfield. These three players have the talent to play day one and the upside to be all-pros. This will officially turn the page on the Revis era (RIP in peace to "the island") and begin a new era.
So, if available I am going to mock Jamal Adams here to the Jets. He's a safety that will hit you in the mouth on the run and athletic enough to match up with anyone on the field almost. He will step on the field day one and be the Jets best defensive playmaker they have had since the days of Revis Island. Expect him to retire Calvin Pyror and make more tackles than Pryor ever has. He's a leader of men and culture changing type player. If Mikey Mac has him on the board at 6….. You sprint to the podium and take him immediately.
Round 2, Pick 39:
This is where the real draft starts.. Let's be honest the Jets are very weak across the board they could go anywhere with this pick. My gut tells me its an OL, or rush OLB.  I think that the depth of this draft lies in the specialty pass rushers so I say Jets go OL here. Garrett Boles is the pick then.
Now there is a possibility that he gets pushed up into the back half of round one based on how slim this position is but I think he makes it the Jets at 39. Boles was a LT at Utah and let me tell you this man is a road grader and a half, folks. Though on the smaller end weight wise for a tackle the guy just crushes people while run blocking. PFT has him rated as the number two run blocker in the whole draft. Look for Boles to slide into the starting RT spot for the Jets from day one and do what Breno G was supposed to do for this team.
Round 3, Pick 70:
After going to the OL in round two this is where Mac is going to find his pass rush specialist. He missed on Mauldin two years ago trying to be that guy, so the pick for the Jets is Tim Williams. Before the National Championship game Williams was thought to be the best outside pass rusher in the entire draft. Williams has been falling down boards due to his over aggressive nature and inability to play in space vs. the pass. I think this would be a steal and a half for the Jets here at number 70. Williams talent to get to the passer is being over looked by his pass coverage. The addition of Kevin Greene to the coaching staff will allow them to craft Williams into an absolute terror on the outside. Jets plug this stud in as a 3rd down rush specialist and he finishes with 10 sacks as a rookie. BOOK IT.
Round 3, Pick 107
The Jets had to cut ties to their best center in team history Nick Mangold, unfortunately, this offseason. He has been hurt way too often in the past two years and made a ton of money. The Jets feel comfortable with Wes Johnson starting at center but look for Mac to add in some insurance with Ethan Pocic from LSU. Pocic started from his sophomore season on at LSU and didn't look back. Paving the way for Leo and the boys to huge running success from the middle. Drafting Pocic will give the Jets a true Swiss army knife with the ability to play both guard and center position. Pocic could push Wes Johnson for PT is Johnson gets off to a slow start.
Round 5, Pick 150
At this point, we are going off pure guess work. If the first three rounds end up similar to my mock the Jets will take the best skill position player on the board. Ryan Switzer would give the Jets a true slot receiver. Switzer compares to a Julian Eddleman, undervalued based on size and straight line speed. Yes, he's like 5'8 but the guy gets open and catches the ball. Worst case scenario is he's the starting punter returner.
Round 6, Pick 191
Jets add a tight end here to help with the worst production out of the tight end position since the triple option era and the tight end was an extra tackle. Jeremy Sprinkle Arkansas would provide the Jets some answers at the position. Huge frame that has the ability to get bigger and help in the pass and run game as a blocker.  
Round 7, Pick 224
Jets add a low-risk high reward running back with Joe Williams. True Homerun type threat when he touches the ball and gets into the second level. His 4.41 40 time could push him up into the 6th but fumbling issues might negate that push forward. Worth the risk for the Jets here late in round 7.
If the Jets can assemble something close to the mock I just laid out that would be a good start to the long rebuild ahead of the Jets. Assuming they are able to trade Sheldon you could add two additional picks to the already seven.
Stay tuned for a full recap of the Jets draft and draft grade next week. Until then you can follow all things Assitant on Twitter at @ForgetthePoints.