A little precursor before we get into this. We approached our bracket as if we were trying to win your pool at your office or local bar. We think it would be appropriate to share upfront some of our tips and tricks to betting the first round of the tournament. Along with some of our overall thought process and strategy that went into us building out our bracket. While we've seen personal success with our methods we encourage everyone to tweak things in your own personal way and do your own research.
That being said, from an overall strategy standpoint a few things you have to look at aside from the current matchup a team has, is to check and see what potential matchups they could have in the coming rounds. This might change the difficulty of their possible path to the later rounds. This is important when deciphering in the earlier rounds which teams are set up the best to make a deep run.
Game location is another one. Kansas opens its weekend in Tulsa, super close to them relatively. They'll be sure to draw a home like atmosphere. We don't put as much into this cause college fans are crazy will travel anywhere for the most part. It is significant enough to at least take note of if's a game you're on the fence about though.
We don't put too much into W/L record because with the difference in some teams conference quality, it makes them a useless stat. We do take a look at their overall schedule game by game and see who their big wins were against. As well as who they had bad losses too. Comparing team to team on a game to game basis is a much more effective route than comparing win-loss records.
In terms of on the court statistics, National rankings of them can be a great way to differentiate teams on a national level. Some of the stats we look at most closely are 2/3pt FG% as well as their opponents 2/3pt FG%. Turnovers, Pace or rate of play, steals, fouls and FT attempts. All of these correlate to teams who take care of the ball and play with control and intelligence. These are the stats you should look most closely at when trying to figure out your best chances at upsets in the first round, which we have plenty of. A team who plays fast, scores a lot but doesn't turn the ball over or foul with higher propensity are your best bets to pick as first round upsets.
As we mentioned earlier, we've seen success considering these factors but we encourage everyone to do your own research and make necessary tweaks in your evaluations if you see fit.
We included our full bracket so you can see where we stand from the start and follow along the way. There will also be a separate string that will follow along as all of our writers battle it out for official bragging rights, and possibly some green pieces of rectangular paper. Be sure to look out for that and follow throughout the tournament. This article includes just picks and bets for the first round. We will reset and put out another one for each following round after. With that, Let's get it rolling with our first round picks as winners for the bracket and bets against the spread for all of us you degenerates.
LINK TO BLEACHER FAN OFFICIAL BRACKET ….and a granulated picture below. The link is 4k version, swear.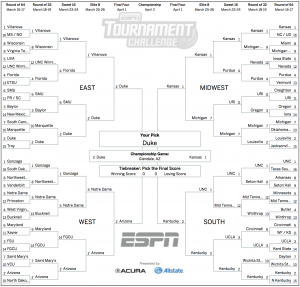 Thursday Games
Princeton/Notre Dame (-7): Usually, we like 12-5 matchups but not this one. Notre Dame has won 8 of 10 with the two losses coming to top ten ranked teams in Louisville and Duke in the ACC championship game. They looked real sharp against Duke, the hottest team in the country, both teams are top ten in least turnovers but Notre Dame faces superior competition on a regular basis. Notre Dame-7
UNC Wilmington/Virginia (-7): We like UNC Wilmington +7 here as they very well could upset. Virginia is a sound team great defensively but offensively are inept. Virginia winning by 7 plus is like a 12 point spread for anyone else.
Winthrop/Butler (-11): Winthrop is 8-2 ATS and 12-3 on the road ATS. This is the highest Winthrop has ever been seeded take Winthrop +11, with the potential upset alert.
South Dakota/Gonzaga (-22): We like Gonzaga -22 here, the Zags have been annihilating teams all year, expect that to continue as South Dakota (18-16) has no business being in this and may be the worst team in the tourney.
Bucknell/ West Virginia (-13.5): This is a potential upset alert take Bucknell +13.5, they are 23-11 ATS and 11-3 ATS as a dog. Bucknell is 26th in the NCAA in field goal percentage, at 48.1 percent and although WVU is number one in turnovers forced, they are 261st in free throw percentage at 67.8 percent. Bucknell will capitalize on poor free throw shooting by WVU late.
ETSU/Florida (-10): We like ETSU +10 with the points here, they quietly put up buckets. They are tenth in the nation in field goal percentage at 49.1% and score 79.9 points per game which is forty-first in the nation. They can score points so we like them to keep pace Florida pulls it out by 7.
Middle Tennessee State/Minnesota (PK): Minnesota hasn't really impressed us, maybe it's just a down year in big ten, they may be tough but so is middle Tennessee state. MTS is 22-10-1 ATS and twelfth in field goal percentage at  49.0 % while Minnesota is at just 43.5 % which is just 234th in the nation. Take Middle Tennessee State  PK for the upset they're returning everyone from last year as well.
Vandy/Northwestern (PK): Maybe this is me rooting for NW in their first tourney ever but they are the more dangerous team. Although we don't love to look at the record solely, Vandy is just 19-15 in the SEC, which hasn't been impressive at all. Take Northwestern PK they are also 21-12-1 ATS.
Xavier/Maryland (-2): Xavier looks decent lately but Maryland has the best player on the floor and that is Melo Trimble. Xavier is just 1-9 ATS as an underdog. Yikes. Take Maryland -2.
VCU/St. Marys (-4.5): We like St. Marys -4.5 as they are 8-2 ATS on the road or in neutral setting. They have a lot to prove and will play angry as they lost to Gonzaga for a third time this season. VCU is 0-3 on the road ATS as an underdog.
Vermont/Purdue (-8.5): Caleb Swanigan might be the best player in the country and is a 20-10 machine. Purdue has fallen in each of the past two years in the first round but we think they have something to prove. Vermont hasn't faced teams the caliber of Purdue they could be overwhelmed. Purdue-8.5
FGCU/ Florida State (-13.5): This is a huge upset already for FGC to play spoiler. Florida State only plays 7  guys if they get in foul trouble this could be trouble for them. FGCU shoots 50.2 percent from the field which is fifth in the NCAA and is 23-6-1 ATS overall and 12-1 ATS as a dog. FGCU +13.5
Va Tech/Wisconsin (-5.5): Wisconsin looked shaky for a while but righted the ship in the Big 10 tourney making the finals to lose to red-hot Michigan. Wisconsin is a tournament team and a smart one, committing just 11.0 TO per game putting them twenty-fifth in all of ball. They also have a top ten defense allowing just 61.4ppg, take Wisconsin -5.5
North Dakota/Arizona (-16.5): Arizona is on fire if you didn't see they just smoked UCLA in the PAC 12 final. Don't overthink it zona wins big by 35, Alonzo Trier and Lauri Markkanen are a lethal duo, Zona -16.5 
Nevada/Iowa State (-6): We love Nevada +6 here, not only will they cover they'll win this game. Iowa state is a notorious choker in the tournament, Nevada is 22-11 ATS and great on offense scoring 80 a game on 16 assists, both in the top 40.
Friday Games
Oklahoma St./Michigan (-2.5): Michigan is on fire, put the house on Michigan -2.5 ever since the plane crash they look fired up and loving life. Perhaps, bigger than sports Michigan is destined for big things.
New Mexico St./Baylor (-12): We actually like New Mexico State +12 here they are 22-9 ATS on the year. I don't trust Baylor, they always find a way to screw it up. Historically known for busting in March, i like Jonathan Motley but don't know if they have enough to win by 13. It's possible they could lose.
Seton Hall/Arkansas (-1): Arkansas was looking good and then they ran into Kentucky and were delivered a 17 point loss, ouch. Seton Hall, on the other hand, came just shy of knocking off Nova in the Big East tournament in a two-point loss. Seton Hall has the best rebounder in the game in Angel Delgado at 13.1rpg, 4.9 of which on the offensive end, an absolute beast. Arkansas isn't ready for this, Hall will be. Seton Hall +1
Iona/Oregon (-14.5): We know Oregon is going to miss Boucher and the injury hurts them but this early. Iona is not good and Oregon is too talented see Dillon Brooks. Oregon wins big take Oregon -14.5.
Jax State/Louisville (-20): This has blowout all over, Louisville is long and physical and averages nearly 40 boards a game. Their size and 3-point shooting will overwhelm them I'm thinking 30-point plus loss for the Gamecocks. Louisville -20
Texas Southern/UNC (-26.5): Once again another dominating performance by one of the best four teams in the country. North Carolina is the number one rebounding team in the country nearly two more the next team at 43.5. This will never be close, UNC by 40. UNC-26.5
URI/Creighton (-1): Upset alert take URI+1 they're real dangerous right now. URI has won eight in a row and has even given Duke a run for their money. Creighton on the other hand just hasn't been the same since losing their best player and point guard Maurice Watson Jr. to a torn ACL
Dayton/Wichita St. (-6): Dayton looked very unimpressive against Davidson, I mean they lost. Wichita is on fire and is going to play pissed getting that absurd 10 seed. The Shockers are 21-10-1 ATS this year while Dayton is just 12-16-1.According to our deeper analytics from Pomeroy College Wichita is eighth in the country overall. They're experienced and hungry, take Whichita -6. 
Troy/Duke (-19): Duke is a well-oiled machine right now, they can take it all and I have a hunch they will. They weathered the storm and have the best coach arguably ever in K, Duke blows the top off everyone gets a piece of the pie. Troy who? Duke-19
Michigan St./Miami FL (-2): We like Michigan St. +2 here Miami is just 2-9 ATS after four days of rest. Miles Bridges is the best player on the court so in an even match-up go with Bridges and legend Tom Izzo. Spartans are experienced to say the least.
Northern Kentucky/Kentucky (-22): Kentucky just won the SEC title over Arkansas by 17. I think they can win by 22, Monk and Fox are the most talented 1-2 guard combo in the country, they are electric. They also have Coach Cal. Kentucky -22
Marquette/South Carolina (-1.5): Sindarius Thornwell is a monster for South Carolina, but he won't be enough. They're limping into the tournament having lost 5 of 7. The Golden Eagles are number one in the country at an unreal clip of 43% on 3's, they also make 10.5 a game which is fifth in the country. Marquette +1.5
Kent State/UCLA (-17.5): UCLA is number one in the country in scoring 90.4ppg as well as assists at 21.5 a game. UCLA scores in the blink of an eye, this could get ugly fast. UCLA -17.5
Best of luck to everyone both in your office pools and with your local bookie. Hopefully everyone can avoid any broken limbs this year, but hey, it's March, there are no guarantees.
Be sure to follow along and check back as the tournament plays on for updated picks each round.