If Johnny Manziel wants to return to football in 2017, it looks like he's going to have an option. An independent football league, known as the Spring League, is set to kickoff in April, and the CEO of the league wants to include former NFL stars like Ray Rice, Vince Young and Manziel.
"If Johnny Manziel is serious about a future in the NFL, the Spring League is willing to provide him with a platform to prove he's still relevant," CEO Brian Woods told the Associated Press on Friday. The league officially launched on January 9 with an announcement from longtime former NFL scout John Peterson, who will be serving as the league's president.
"There's a tremendous need for a developmental and instructional league," Peterson said at the time. "The purpose is to help players get selected for the NFL and other pro leagues in Canada or arena football."
According to Peterson, players like Manziel would be perfect for the Spring League, and not because of the instant publicity he'd bring. Peterson says it would give Johnny Football a chance to become a better quarterback.
"The No. 1 position that needs players to develop is quarterback and the No. 1 valued position on defense is the pass rusher," Peterson said. "How do we develop them? They need a chance to play live and that's what this league is all about."
Besides Manziel, the league is hoping to land other former NFL players like Rice and Young. Of course, the league isn't going to be made up of just former NFL players, because that's not really who the league is designed for.  – CBS Sports
I am a Johhny Football guy through and through. Love everything about him. Admittedly he hit a rough patch the last year or so, but just as you think he's down and out, boom Johnny Football lights a fire under his own ass and gets his shit together. Everyone's needed wake up call at some point in their life and judging from Johnny's words in these tweets, he's gotten his wake up call.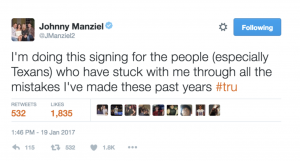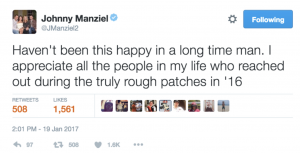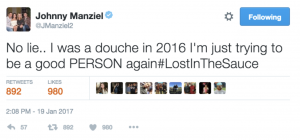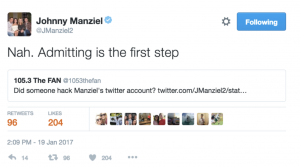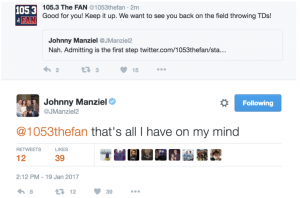 That's everything you want to hear from this young former Heisman Trophy winner. At this point though, these are just words. The action must follow. Manziel also hasn't exactly stayed in playing shape. Recent pictures of him show a much less muscular frame then he sported in college. Not that he was some great physical specimen before, but let's just say his muscles have taken a little vacation up his nose.
Well that being said, it looks as though someone is taking his words seriously. Although this isn't an NFL sanctioned showcase or combine, it's still a legitimate group of players and scouts. The league will be made up of un-drafted or former players attempting a comeback, but Johnny Manziel isn't the only former notable player getting a Spring League invite. Ray Rice and Vince Young will also be on the list of attendees. the former Ravens running back scorned from the NFL over his highly publicized domestic violence case. Rice, 29 has been out of the league for 3 seasons. Young the former Texas standout who saw brief stretches of success in the early stages of his career but has since fallen off a cliff.
You gotta love this spring league. It's more football. Anything that provides with more pro level talent football, I'm all in for it. Ray Rice, while he committed a terrible act, is an unfortunate victim of the NFL's double standard. Sometimes these players deserve second chances, but even if they don't, as far as me tuning in? You can book it!