NESN-Le'Veon Bell and the Pittsburgh Steelers don't appear to be close to a long-term contract agreement, and that likely will result in the star running back being franchise tagged for the second straight season. ESPN's Jeremy Fowler reported on the situation Monday. Bell and the Steelers have until Tuesday's NFL deadline to reach a contract or the tag will be used.
Le'Veon looks to cash in
Well, Le'Veon Bell sure as hell needs to keep his word and retire if they don't work out a deal because it is being reported that he and the Steelers are miles apart on working something out. He is slated to make 14.544M on the tag, while it is a ton of money it is not the security that Le'Veon has been seeking from the Steelers. He has undoubtedly been one of the best players in the NFL since breaking into the league, so why won't Pittsburgh pay him? Le'Veon has repeatedly said he wants to be paid for his worth, but it seems that it is a little too late for him to cash in.
Steeler's Point of View
The way the Steelers are looking at it, no other RB in the league has logged more snaps than he has since 2015 (2,030). Bell ran the ball 321 times this year, amassing 1,291 yards but only averaging 4 YPC. That is his lowest mark since his rookie season in 2013 where he only played 13 games. Which is another cause for concern for Pittsburgh, Bell has not played a full season since 2014, since then he has appeared in a total of 33 of a possible 48 regular season games. The running back position is one that falls off incredibly fast in the NFL, and Le'Veon's checkered health history doesn't give Pittsburgh any reassurance that he can play out a 3-4 year deal.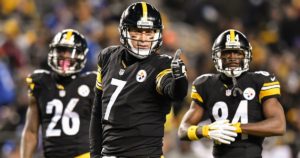 Now it would be a no-brainer for another team to pay Le'Veon but Pittsburgh has a beautiful problem on their hands. They have an incredibly talented roster, that has stretched their cap thin. Pittsburgh is fresh off giving their best player Antonio Brown a 4-year 68M$ extension that they quickly moved to get done. This has left Pittsburgh with about 5 million in cap space as of right now.  They just simply don't have enough money to give all of their players the big contracts, one of their big three talents has to take a pay cut. We already know it won't be Antonio, it certainly will not be Steelers legend Ben Roethlisberger, which leaves Bell the odd man out.
Buying time
The franchise tag doesn't mean Le'Veon can't get his long-term deal, as he can always not sign it and hold out. The tag, however, buys both sides a little time to come together to work out a deal that is suitable for both sides. Le'Veon has been quoted saying he will settle for nothing less than what he is asking for, but don't look for the Steelers to budge just because of his remarks. Both sides will have an entire offseason to work out a deal, but we are a couple months away from teams holding voluntary workouts and time is running out.
Walking Away
Another possible scenario to this situation is that Bell actually retires from the game of football for a year. Bell has previously stated that he would consider retirement if the Steelers tagged him again, and today March 5th, 2018 he was tagged again. It wouldn't surprise me if the two sides don't reach an agreement that we see Bell take a year off like Marshawn Lynch did. My prediction is that the two get something done, or the Bell signs his tag in order to be traded to a team that will pay him.