Once A Chief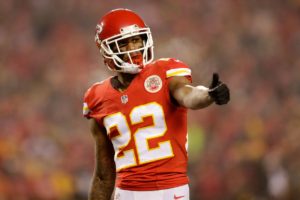 Ladies and gentleman Marcus Peters has been traded from KC to LA for what is being reported as a second-round pick. The fire sale of Chiefs players continues. They traded starting QB Alex Smith earlier in the offseason and now star Cornerback Peters. Trouble had been brewing between KC and Marcus Peters throughout the season. He was suspended by the team for one game, and often times was seen heckling his own fans.
The Chiefs, however, had the fourth-worst passing defense in the league and disposing of their second best DB is very surprising. Especially with the acquisition of Kendall Fuller, David Amerson, and Eric Berry returning from injury. This could have been a dominant unit. The additions of Amerson and Fuller, however, should make this unit at least respectable.
It seems that the talent was not worth the headache for Kansas and they are comfortable enough with Kendall Fuller taking over as their CB1 with Amerson across at CB2. The talent with Peters is definitely there, since he has entered the league nobody has more interceptions and passes defended than him. He has 21 career picks, which is pretty mind boggling judging that he entered the league in 2015. If that doesn't impress you, since 2015 Peters has the second lowest passer rating against (60.7) in the league.
Now A Ram
Now the LA Rams will have Marcus Peters, and the NFC should be petrified. Not only does it bolster their secondary it basically cost them nothing. Marcus will only cost 1.74M towards the salary cap next year. Landing them an elite player for basically nothing.
The Rams will have enough money to resign their pending free agents, while addressing their biggest area of need. They were no slouches in passing defense last season as they had the thirteenth best pass defense unit in the league, but this move should vaunt them into a top 5 spot easily. This move not only helps their pass defense but also their pass rush in making QB's hold the ball longer. Look for Wade to dial up blitzes far more often as he will now have the personnel to cover downfield.
Given that the Rams ONLY had to reportedly give up a second-round pick for Peters. I am going to give them a A++++ rating for this trade, that is four pluses folks. I love this move.
For the Chiefs? The trade initially seemed pointless but I will give them a B+. Yes, they lose a quality player, but now it is apparent that there was no shot Marcus and KC were headed for a long marriage. He carries a fifth-year option which the Rams will exercise, but the Chiefs most likely would not have extended him a contract offer after his fifth year. They reportedly received a second round pick for a player that they were most likely going to end up losing anyway.
Andy made a move, and now Andy is happy.