The Return to Football
Football is finally almost back as teams are already reporting to their training camps this week, and I had the pleasure of attending the first session for the New York football Giants. It was a relatively straightforward practice today as the team worked mostly on fundamentals.
From the beginning of practice till the end there was an energy in the air that was palpable. Odell Beckham was dancing and jamming early and often, Saquon Barkley was all smiles, Evan Engram was putting on a show, and the team seemed happy to be out there.
Winners of the day
Janoris Jenkins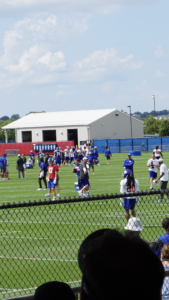 If anyone was worried about Janoris being distracted by the current legal issues that his brother is embroiled in with the murder charge and a parole violation charge you can rest easy in knowing that he was on fire today. The times where the defense and offense battled each other today Janoris was always in the right place at the right time.
Early in practice when the team ran one on one receiver and defensive back drills Jenkins had multiple pass breakups. One thing that really stood out is his footwork, he has always been a good cover corner, but the fluidity of his hips and feet today allowed him to drive on the ball. On one pass attempt, Jenkins got beat on a deep route but was able to close the gap and get a hand in there to bat the ball away. Look for Jenkins to have a standout year if he continues to display sound technique and great awareness into the season.
Eli Apple
Giants fans all over the world rejoice, Eli Apple actually looked like a competent corner today and a damn good one by that. Early in practice Apple lined up across Sterling Shepherd, Shepherd ran a go route up the right side of the hash, Eli Apple came down with the ball on a route where Shepherd actually had a step on him.
About five minutes later Apple lined up on Shepherd again who ran a deep post from the right side of the hash again, Shepherd actually had a couple steps on Apple, but yet Apple was able to close the gap to bat the ball away. He had some miscues covering the slants and underneath routes today, but that is largely in part in it being a no pads minimal contact practice. If Eli Apple truly has put last year behind him look for the Giants to have a formidable one-two punch at cornerback this year.
Eli Manning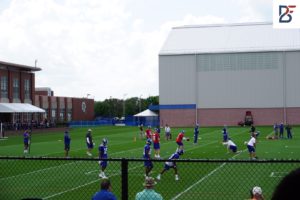 After a tumultuous season last year where Eli saw himself benched, a scapegoat for Ben Mcadoo, and linked to a narrative that had him pegged as someone who should immediately retire. That was last year, this year Eli has a new Head Coach that people are actually excited about, a new running back who is a heavy favorite to win OROY, and a revamped offensive line that should keep him upright for most of the game.
It is definitely a good time to be Eli and today he looked like the best QB out there as he should. One part of practice that stood out to me is when they were doing QB rollout drills and Eli was moving to the right and throwing darts to his tight ends 20 yards up the sideline. Whenever Lauletta and Taney stepped in some throws would sail, some would be too low, and some would wobble, but for a majority of the day, Eli was spot on.
Losers*
Defense
I put an asterisk next to this selection since there was no hitting, the defense could really do nothing about slants, drag routes over the middle, deep go routes. One area of concern was the linebacker play, which again is a very minor concern as they were basically playing cover 2 man. The corners were playing man, while the linebackers dropped into zone coverage, but the problem throughout the day was the linebackers never really made the right reads.
They would sit too high or too low and the middle was virtually open all day. There was a pass where Taney through it down the middle, the ball was tipped at the line, but still landed in his receivers hands as the area was completely empty. At points, the coaches would pull a guy aside and coach them up on their responsibilities, but again today was mostly about fundamentals and not really about going full speed so I wouldn't worry too much.
The Receivers
Today wasn't the best day for the receiving core and half of it had to do with some errant throws by the Quarterbacks, but nonetheless, when a ball hits a receivers hands it needs to be caught. Today I counted 9 times where a receiver had the chance to haul in a pass but it wound up bouncing off their hands.
Amba Etta-Tawo was a victim of this on a comeback route where the ball was thrown perfectly he just couldn't handle it and dropped it. This also includes tight ends as I counted at least two drops per player in that group, however probably the nicest catch of the day was an Evan Engram catch coming up the sideline with one hand and taking it for what would have been a touchdown.
Things to watch
Saquon Barkley
Today was no contact so you really couldn't see Saquon Barkley in action, they simulated some handoffs, and he made good cuts but the running backs were going 50% effort at best. Something that should be of note, however, was Barkley taking passes up the middle at one point unguarded but making some great cuts.
Saquon made very sharp and quick cuts that should be a complete nightmare for a linebacker who has to play man on Barkley. Another interesting tidbit is that Barkley shadowed Beckham and Evan Engram at times when the offense came together to run drills, it seems that he has already built a rapport with the teams most dynamic offensive weapons.
Offensive Line
The Offensive line has been retooled with the additions of Nate Solder at tackle and with drafting Will Hernandez out of UTEP. There was no way to gauge whether the unit looked good or not as most pass attempts were quick passes, but if there were any positives it is that there was not one time where there was a defensive player applying serious pressure to any QB. Even on the QB rollouts, the Quarterbacks would have a clean throwing window. This unit should be labeled as too early to tell if they are good, but also as a unit that is trending upward.
Come back tomorrow for my notes on the second day of training camp!