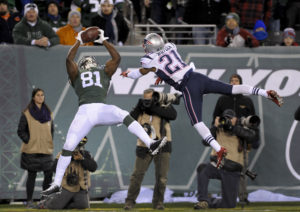 Huge blow today hearing that Quincy Enunwa is out for the season with a neck injury. Just awful. Guy had a great (Jets definition of great) season last year and he was only going to get better (depending on who the hell the QB is). Having a WR who has had a couple seasons under his belt, and relatively no drama, leading the charge could have been promising especially with a bunch of young, raw players at the position. Unfortunately, we cannot have nice things being a Jets fan because shit like this happens.
The offense is a question mark at best. that's being positive. The defense, however, the Jets defense has some real talent there and a coach that knows a thing or two about a good defense. Jamal Adams is a natural born beast and someone who could easily rise to be a captain on this squad. They still seem a little weak at CB but that's about it. I think they have a strong D line, linebackers and safeties. What really worries me is the mental toughness of the young names. Can Adams maintain this positive attitude and hard working mentality through week 9 with the team having a 2-7 record? If you're Jamal Adams you have to know what you're getting into. Going from an LSU team that would handily beat teams to a Jets team that can barely get out of their own way is quite the transition. I guess we will see if Richardson was right about Marshall being the problem in the locker room.
This Jets team can be something good in a couple of years which is damn near impossible for a team in New York. Hey, a guy can dream, can't he? It's no easy task to change the culture of a whole organization and the problems get magnified in this day and age. Let's see if they can stay strong and stay the course. Jet up?