Ahh, the release of this year's Hard Knocks team. The unofficial start to the football year for us couch and bleacher guys. It's a little foreplay before the NFL draft next week.
Yes, I know the league year starts in March but after the first week or so the signings die down and were stuck in this 3-4 week lull period where you forget about the NFL with the start of the NBA and NHL Playoffs. Enough small talk though, let's get to this years team. None other than…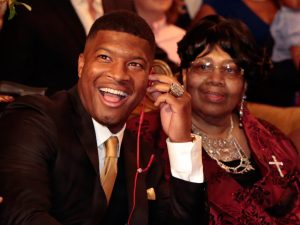 Yup! Bust out them crab legs! We're going to Tampa! Absolutely love this pick. The list gets so dwindled down after they cross off the teams that automatically don't fit based on the list of factors that disqualify a team from the "being forced to participate" list.  Tampa has everything you want in a Hard Knocks team. A young brash loud flamboyant star QB. Including some other great personalities like DeSean Jackson. They have talent, young talent and lots of it. Solid coach in place, a team on the rise, expected to take a huge leap this year and really contend for that division. Come to think of it, I don't think it's crazy to call them the favorites to win the division next year.
I don't expect anywhere close to a repeat year out of the Falcons. The Panthers nor Saints had impressive offseasons. So I don't really see where there's a true hurdle in the division for this young talented Bucs team.
I just hope the cameras don't serve as too much of a distraction for this young team. I would hate to see a year wasted on this squad. Hopefully, it gives them the exposure they deserve. This team with or without the cameras is destined to light up the league in the near future. Jameis will have all the crab legs he wants.