WWE this week was a mixed bag of weird featuring a man being thrown into an ambulance, a Big Baller Brand tragic (to the eyes) appearance and a redo of a first ever match two weeks prior.  All this shaped out to be a promising week on the show, however, not every quite delivered as it should have.  Let's break down some highlights
Roman and Strowman
I'm digging Roman Reigns and his new cocky persona lately.  The last few weeks he's come out with more swagger and cutting promos about retiring The Undertaker and beating nearly anyone in a one on one match has been a nice change of pace for the world's most hated good-guy (sorry John Cena).  An ambulance siren interrupted Reigns mid-promo as it backed into the arena. Roman moseys over to the ambulance only to be attacked from behind by Braun Strowman.  Strowman proving his unreal strength by tossing Reigns off of the ramp into the parked ambulance.  Strowman throws Reigns in the back of the ambulance and the vehicle leaves the arena.  The ambulance as the focal point since they have an ambulance match at the next PPV, Great Balls of Fire, isn't lost on this writer.
This was a fun opening segment but why didn't Strowman get in the ambulance with Reigns and make this an ongoing segment for the night?  Imagine if they cut back to the ambulance throughout the night with different plans Strowman had in mind for Reigns only for Reigns to escape by the end of the night.  This had really cool potential, however, besides one comment that Reigns got away, they did nothing with this again.  Pure shame.
Can Samoa Joe slay The Beast?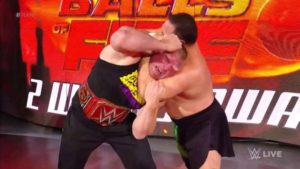 I still don't believe Joe has any chance against Brock Lesnar, but I applaud the creative team for making me feel like Joe has a chance against The Beast at Great Balls of Fire.  Joe locked in his Coquina Clutch on Lesnar at the ramp (big night for the ramp) and while Lesnar tried to slam Joe into the entrance way multiple times, Joe never gave up his grip.  Eventually, The Revival for whatever reason came out to break up Joe and Lesnar (welcome back!) as Lesnar was laid out with an extremely red face.  Did he actually stop breathing for this segment?!
Turns out, you really can't teach that!
Enzo and Cass had a great segment last week where Cass was revealed to be Enzo's attacker thus dissolving the tag team.  I'm not a fan of these two splitting up, but I can't argue that the execution is great.  This week, Enzo came out with a passionate speech trying to get Cass back together and forget about their differences.  Cass came out in a weird plain back cut off t shirt, however, still to his tag team theme music.  He forgave Enzo and took him back. He even did the "S-A-W-F-T" gimmick! This excitement was short lived, as at that dreaded ramp (again) Cass attacked Enzo and officially severing ties with his best friend once more.  I hope these two reunite at some point, even as heels down the road.
Fine, let's just get through this: Great Balls of Fire – BBB Edition
This was just fucking embarrassing.  LaVar Ball has done a great job marketing HIMSELF at the expense of his own children ever since Lonzo Ball came into the spotlight.  LaVar came out, ran to the ring like a fool, fell getting into the ring and then never stopped talking from the minute he was given a microphone.  As the hometown LA crowd booed the Balls, LaVar rambled on while his sons just kind of sat there. LaMelo dropped the "N word" multiple times with a live microphone and Dean Ambrose came out to "save" the day with a challenge to The Miz while he wore his "Big Baller Brand" tee.  All of this was a desperate cry for attention and this made the Alexa Bliss, "This is Your Life" segment seem like a dream comparatively.
Women's Gauntlet Match
This was a pretty good main event after a night of having Seth Rollins wasting time against Kurt Hawkins, Finn Balor locked in a feud with Elias Sampson for some reason (both guys need to be built so why are they in a feud together?!), Hardys and Sheamus and Cesaro are in the same ring for the 100th week in a row and Kurt Angle is texting.
With all that happening on RAW, it was nice to see Nia Jax and Sasha Banks built so well.  This was a women's gauntlet match where two competitors start and after each match, a new person comes down to the ring.  Nia Jax and Bayley started and Bayley was fed to Nia.  Poor Bayley as they say, but they really need to have her channel her bad ass dark side and just kick ass Stone Cold Steve Austin style and get back over with fans.  Speaking of Steve Austin, he was rumored to appear on the show but never showed up.  Another disappointment to the night.
Back to the match, Nia destroyed every opponent until it was just Sasha Banks left.  Banks picked up the win after getting tossed around by Jax with the Banks Statement becoming the new #1 Contender for the Women's Championship.  Very cool ending where Nia looks like a monster and Banks like a superstar.  We'll get Sasha Banks and Alexa Bliss for the championship at Great Balls of Fire!
Women's Money In The Bank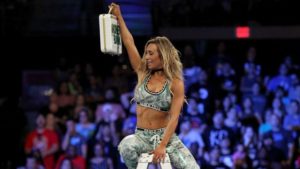 I'm not going to lie, I missed most of Smackdown but I needed to see this.  After the first ever Women's Money In The Bank match, they decided to redo it after interference from James Ellsworth.  I hated the concept but I dig the finish.  As many I'm sure said, there are no rules in The Money In The Bank match, so Ellsworth's interference is irrelevant.  I didn't love how that match ended, but stripping Carmella from the briefcase was just ridiculous.
I'm just glad WWE doubled-down on her as she was gaining massive heat for her win and I'm hoping she doesn't lose steam.  She has the look, the theme music, great mic skills and improving tremendously in the ring.  I'm not a fan just because we are both Staten Island natives, it's because she's simply the right choice to win this one.  A few months down the road she should cash in this opportunity and be your next champion.
Kind of cool the women (and the RAW ramp) were featured so prominently this week.  I'd like to see more from the stars such as Rollins and Balor, but I heard Orton had a killer promo and I'm just looking forward to John Cena's return to see what interesting dynamic he brings next week.
That'll do it.  Enjoy your Fourth of July and of course… GREAT BALLS OF FIRE.